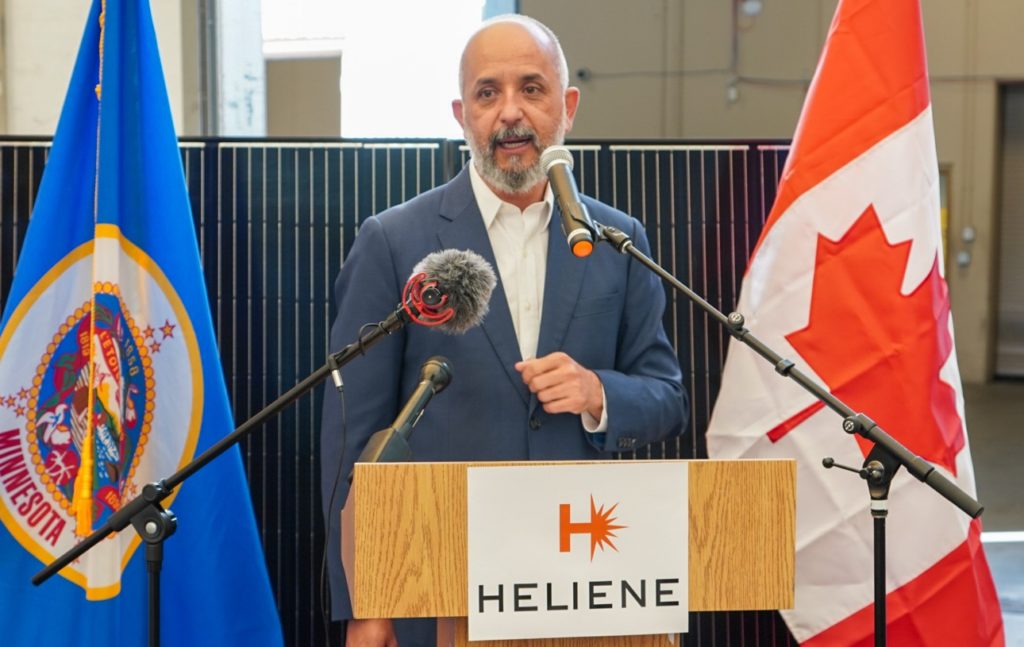 Backed by a new heterojunction module factory in Florida and the expansion of its production plant in Minnesota, solar manufacturer Heliene is looking to take advantage of US policy support to meet increasing demand for American-made PV equipment.
Founded in 2010, Canada-based Heliene started operations at its Minnesota facility in 2018 and a new 400MW mono PERC production line at the site, due to begin operations in June 2022, will take the company's total manufacturing capacity up to 900MW.
Speaking to PV Tech, CEO Martin Pochtaruk says the manufacturer's management team planned the upgrade 18 months ago, but has since been further encouraged by the Biden's administration's efforts to accelerate solar deployment. "Did we know that the overall macroeconomic conditions were going to be this good? Of course not," he says.
Questioned on which policies will especially boost solar's growth in the US, Pochtaruk says the "simplest one is there is no federal opposition to your business. That alone, I think is powerful".
He also points to research from the Department of Energy that suggests solar PV could provide up to 40% of the US' total power demand by 2035, requiring the annual addition of 60GW per year between 2025 and 2030. "What we considered very good growth year-over-year, that was, let's say, 20%. Well, that will be very small compared with what is required going forward," Pochtaruk says.
Heliene could benefit from proposed measures introduced by Senator Jon Ossoff in July that would provide credits for US manufacturers at each stage of the PV manufacturing supply chain. The firm is part of Solar Energy Manufacturing for America (SEMA), a coalition of companies with US operations – including First Solar, Q CELLS and Sunnova – that is pushing for the "timely passage and implementation" of that tax credit.
Incentives for US solar, in the form of the investment tax credit and production tax credit for solar projects, are to be included within a budget reconciliation bill that continues to pass through the US legislature process, with recent estimates suggesting it could be until later this year that the bill passes President Biden's desk. A recent statement from the White House said the proposed clean energy investments in the bipartisan infrastructure deal and Biden's Build Back Better plan will include the extension of US$300 billion in tax cuts for clean electricity, including solar. While the Solar Energy Manufacturing Act, as the Ossoff proposal has been dubbed, has not yet appeared within the budget reconciliation package, it has received support from both sides of the aisle, leading some to believe it likely to be picked up by the Senate.
Heliene's manufacturing ramp-up has coincided with expansions from Silfab Solar, which has doubled its annual module capacity to around 800MW with a new facility in Washington state, and plans from First Solar to more than double its US manufacturing capacity with a 3.3GWdc module facility in Ohio.
This comes as the Biden administration moves to block the imports of some solar products alleged to be linked to forced labour in China's Xinjiang region. A new withhold release order issued by the US Department of Commerce prohibits the import of silicon products linked to polysilicon provider Hoshine Silicon Industry and its subsidiaries.
Pochtaruk says the US solar sector was not prepared for the new measures. "We are all scrambling to get all of the information that is required to properly respond to Customs and Border Protection," he says. He hopes that supply chains will be clearly identified "so that a wafer from an ingot that has polysilicon from Xinjiang can be separated from the rest and we can clearly and cleanly get a product that for sure will comply with these requirements".
Another potential regulatory change could stem from petitions filed with the Department of Commerce by a coalition of unnamed US-based solar companies looking to extend anti-dumping and countervailing duties to Southeast Asia-based subsidiaries of major solar manufacturers – tariffs that the Solar Energy Industries Association warned yesterday could jeopardise the deployment of 18GW of US solar by 2023.
Nonetheless, Pochtaruk says the investigation is a "very timely measure", adding: "I would say it's something that has to be investigated. I'm not saying whether it is right or wrong. What I'm saying is that if there are measures to prevent something, any possible circumvention to get away with it is simply against the rules of the anti-dumping and countervailing statute."
Heliene eyes residential sector growth
Heliene began construction work on the expansion of its facility in Mountain Iron, Minnesota, earlier this month. The new line will manufacture what Pochtaruk describes as the company's "bread-and-butter product", its mono PERC modules. Production at the US$21 million line will see the company focus on standard M6, M10 and M12 mono PERC cells.
While around 70 – 80% of Heliene's focus has been on the utility-scale segment, the new Florida factory will see the company increase its share of revenue from the residential and small commercial solar market. The 100MW plant will produce 370W heterojunction modules that feature 18 round microwires in place of traditional flat busbars, which the company said reduces shading by 25% by creating a light trapping effect.
With that new plant, the company is aiming to meet significant forecasted demand for residential and commercial solar in the US and complement output from its Minnesota operations. "There is a clear market opportunity," Pochtaruk says. "The volume of imports continues to be really high and there is demand for made in America products."