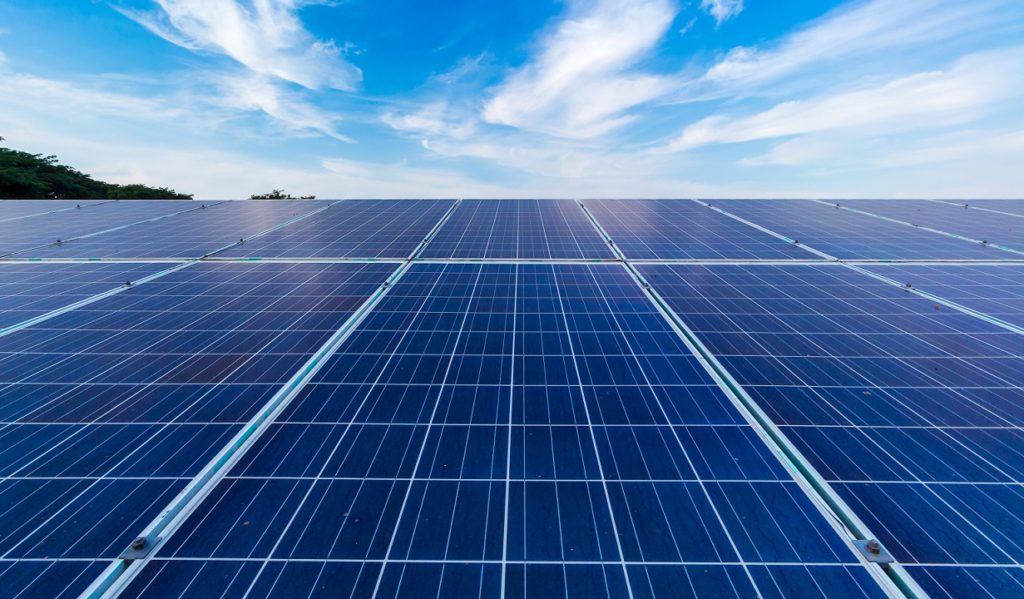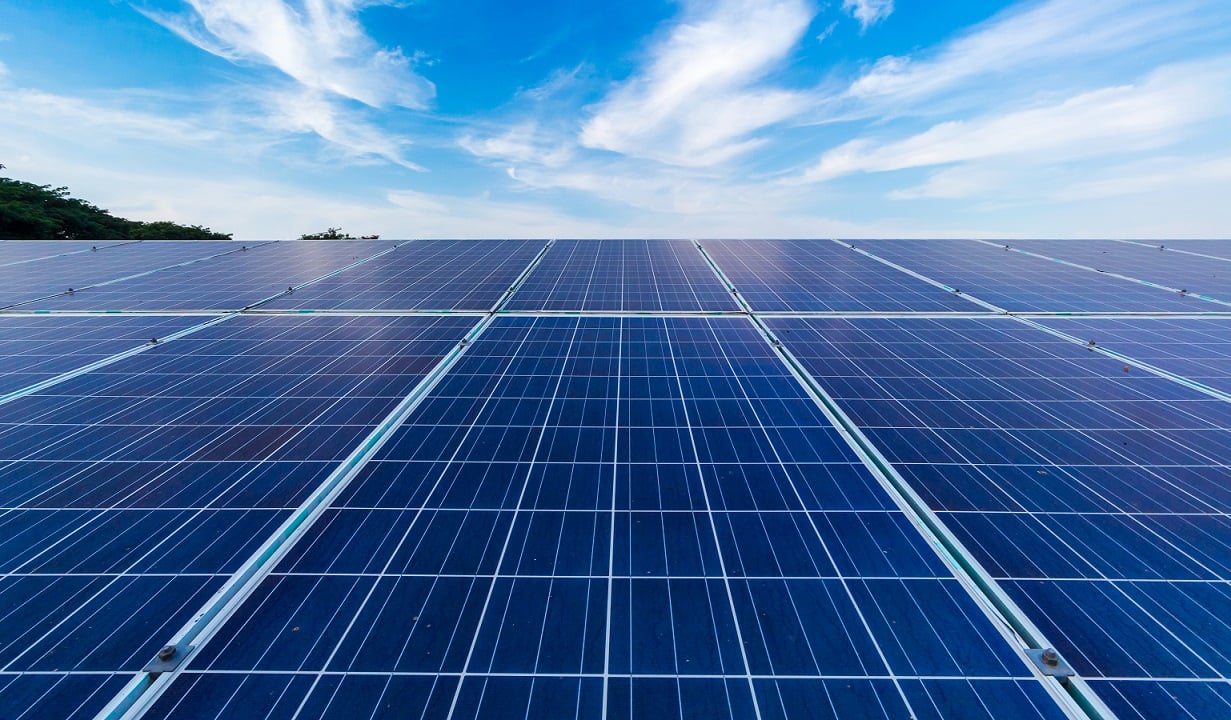 2022 was a year of massive growth in PV module production, shipments and installations. Even as the final numbers are counted now, it is clear that overall shipments were well above 300GWp-dc.
The top 10 module suppliers shipped a massive 245GW, more than 75% of global supply, with the top four each shipping more than 40GW.
This article reveals the top 10 module suppliers of 2022 and discusses what to expect from each of them during 2023.
The top 10 module suppliers of 2022
Module shipments are defined as own-branded supply and exclude both in-house OEM production (for other companies' shipments) or contracted use of module production lines. The top 10 for 2022 mostly produced modules for direct sales; small volumes were done as OEM supply and are excluded. Also, some of the companies had shipment volumes above module production levels, through the use of third-party OEM producers; these volumes are included in shipment numbers. (Double-counting of module supply is one of the industry's flaws at year-end, typically seen in Chinese-compiled data now.)
The top 10 module suppliers feature most of the household names in PV today, with perhaps just one surprise to many outside China and Europe.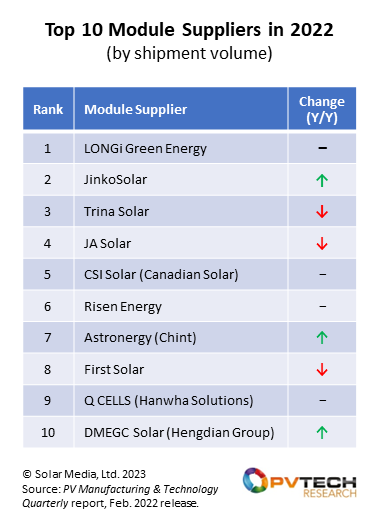 There are no surprises in the top four. Each of these companies shipped more than 40GW of own-branded modules in 2022, levels that were not on anyone's radar just a couple of years ago before net zero, energy security and a war in Ukraine turned the PV industry into the hottest energy ticket in town.
Collectively, the top 10 shipped 245GW in 2022, just over 75% of global shipments for the year. Moreover, the next grouping of ten (11-20 in shipment rankings) shipped about 37GW; the next 10 (21-30) a further 21GW; the next group (31-40) 9GW. In fact, even those ranked 41-50 managed to ship almost 5GW. The remaining circa 50 companies in the sector contributed about 10GW in total shipments.
Consolidation? You must be joking!
The geographic split of the top 10 is essentially the story of the PV industry in 2022. Of the 245GW shipped by the top 10, over 55% went to China and Europe combined, highlighting the fact that these two regions were the places to be last year in terms of selling modules.
Just 8% of the top-10's supply ended up in the US market. And of this cumulative volume, First Solar accounted for about 40%. Who would want to be a module buyer in the US today?
I recall an article I wrote on PV Tech back in 2012, at the start of AD/CVD and the US looking for ways to exclude Chinese-produced cells and modules: Sundown on the union as PV cells come from Taiwan. This line jumped out at me: "For example, if the US was forecast to comprise >50% of global PV demand, this obstacle would be significant. If the US market is pegged at 10% of global demand, then the impact is clearly less pronounced."
Has anything really changed in the last decade?
The US and India don't share many common issues, but until now each has expended an awful lot of manpower on trying to exclude Chinese imports and stimulate domestic content.
The new entrant in the top 10 rankings for 2022 is DMEGC Solar, a business unit within the Chinese company Hengdian Group DMEGC Magnetics. This company has been in the PV industry for over 10 years, but has shot up the rankings in the past 24 months. More than three-quarters of DMEGC's shipments in 2022 were to Europe, a somewhat anomaly for a Chinese PV company, but reflecting DMEGC's focus on Europe paying off big in 2022 as European demand exploded.
Let's now go through the other nine PV module suppliers in the top 10 ranking table for 2022.
Probably the company with the most significant gains in 2022 was JinkoSolar. The market leader for many years until LONGi gained the top spot, Jinko fully reset its strategy at the end of 2021, allocating a staggering US$3 billion into full value-chain (ingot to module) capex for 2022.
Capex is one of the most important leading indicators six to 18 months out. In this regard, I expect Jinko to regain leading module supplier position during 2023, with the assumption that huge volumes will once again ship to the US using non-Chinese produced polysilicon and with ingot-to-module production in Southeast Asia mostly. The decision also to be first key mover on n-type TOPCon is now looking to be a prudent step as others rush to have a me-too offering, not unlike the huge swing from p-type multi to mono PERC a few years back that was driven by Jinko and JA Solar.
LONGi, while still in pole position in 2022, had less of an impact compared to previous years, but did make significant progress in creating a global brand, and staffing local offices with hires from the industry. There is no longer a huge gap between LONGi's shipments and the other three of the top four. This is partly due to a greater degree of caution at LONGi in moving from p-type to n-type; p-mono has been the company's one key manufacturing speciality since the original LONGi acquired cell/module producer LERRI almost ten years ago. However, LONGi is still the industry's leading wafer producer/supplier and is the only top Chinese player that can fall back to wafer revenues/margins if the module business softens.
Trina Solar and JA Solar look similar in many regards and could easily be trading ranking positions for years to come. While having marginally lower shipment volumes in 2022, JA Solar does enter 2023 with a few key advantages: access to the US market, full value-chain in-house n-type manufacturing as a priority and existing options in Southeast Asia to fall back on should trade (import) issues in other regions (most notably Europe) come into effect. Trina – like JA Solar and Jinko – is also fully embracing TOPCon technology, and now has strong rooftop and ground-mount shipment volumes, a major change to the company 10 years ago that was mainly multi and ground-mount.
CSI Solar (still part of Canadian Solar until the carve-out IPO in China is finalised) has fallen back from the top four in recent years. This is due in part to the time taken to complete the China IPO and having to finally call time on a p-multi strategy that seemed somewhat of a gamble when everyone else was moving entirely to mono PERC. Also, there was a time and day when having dual upstream and downstream business units within the one entity was a good idea. Those times have passed and the skill sets for each to be profitable and market-leading are vastly different. 2023 will likely be CSI's reset year and it may be in 2024 that a 'new' manufacturing leader emerges, back up in volumes with the current top four.
Risen Energy continues to punch above its weight and is again having strong international sales success.  But for the first time, Risen's 2023 is all about technology. While there are dozens of new entrants seeking to make heterojunction a multi-GW reality, Risen is the only module supplier in the top 10 that has bet big on heterojunction. If all goes to plan with the new fab, the company will truly have a differentiated offering compared to the major module suppliers today. But it will be some time yet before this is known and maybe not until well into 2024 when the true cost structure becomes clear. If Risen fails, then some of the processing features of heterojunction may go on hold until a hybrid successor to TOPCon emerges in coming years.
Astronergy is of course the brand name of Chint Group's PV module business unit and has been in the mix of top 20 module suppliers for over a decade. In the past few years, module shipment volumes have grown significantly, with supply to the domestic China market dominating 2022 volumes. Europe was the other key market last year for Astronergy, a region in which the company has always been strong. Another TOPCon proponent for 2023, the one remaining challenge is establishing strong non-China manufacturing and traceability – something that is true for most Chinese companies in the PV industry today.
Compared to all other companies in the top10 list, First Solar could not be more differentiated. In headquarters location (US), technology (thin-film), low debt levels and (most important today) a traceability/ESG offering that is quite simply beyond value. The company could have shipped twice its volumes (purely to US projects) in 2022 had there been available fab capacity. Over the past 20 years, First Solar has had to make judgement calls on technology (remember the CIGS threat?), new fab capex, module format size, downstream participation and JVs to access better overseas markets like Japan and even China. In short, where the company is at the start of 2023 is like seeing all the stars come into alignment, coupled with a rapidly changing political landscape that even the most ardent First Solar lobbyists could not have imagined would happen so quickly.
Hanwha Solutions' Q CELLS module brand (business unit) is the other non-Chinese entity in the top 10, headquartered in South Korea. Having been seeking a differentiated place in the sector for much of the past half dozen years, the shift globally to find non-Chinese manufacturers (from a traceability perspective) has come at the perfect time for Hanwha Solutions. It is not inconceivable also that the legacy polysilicon plant in Korea could be brought back to life if it turns out that non-Chinese polysilicon is dramatically under-supplied in the next two to three years. But it is the US market that beckons for Hanwha, a much sought prize for many Korean companies over the years. While before Q CELLS was focused on the US rooftop segment, shifting to multi-GW of module supply to the utility sector (with Hanwha Group project investments) could see a doubling of module shipments in just two years.
How big is the PV industry going to be in 2023?
This is now the key metric for all aspiring PV market analysts. There are several ways to estimate the size of the PV sector this year.
One could look purely at polysilicon expected to be produced and do a simple g/W calculation, while factoring in inventory levels at year-end. Some may try to go around the world and add expected 'demand' from all the countries and add this up, but this is now a dreadful way to forecast the sector. Or you could look at the top 10 suppliers' guidance for the year and assume they will make up about 80% of supply during the year.
Looking at polysilicon production and adding First Solar's expected shipments for 2023, one arrives at about 450GW. Looking at the top four and assuming their 30% year-on-year shipment growth is mirrored on average by the other six top 10 players and you get to about 420GW. However you get there, the first digit is a '4'. If pushed, I would throw out 440GW as a working total at this point, with perhaps a ±5% error bound. About 20% or more of this will be TOPCon modules. And one more stat that might end up prophetic: Europe consumes circa 100GW of modules, with over 90% made entirely within China: the last year this could be possible as EU legislation goes live or the rush to Turkey for shipping into Europe moves to another level come 2024.
Pricing through the value chain is already changing in a way not seen before. There is a price for components made in China, and a price for those outside. Regions (or global buying corporates) that are happy with full made-in-China product are now seeing module pricing well below that a few months ago. Those demanding full non-China traceability will likely see pricing going up and there is no end to a chronic undersupply in this part of the market. The less risky your supply-chain traceability, the more scope you have to bump up prices.
Over the next few months, PV Tech will be hosting its PV CellTech event in Berlin (14-15 March 2023) and our US edition of PV ModuleTech (again in Napa, on 6-7 June 2023). In the coming weeks, our quarterly editions of the PV Manufacturing & Technology Quarterly report and the PV ModuleTech Bankability Quarterly report will be released. Each of these has PV trends and forecasting galore, so please follow any of the hyperlinks on the events or reports to learn how to get involved more with our research team at PV Tech.