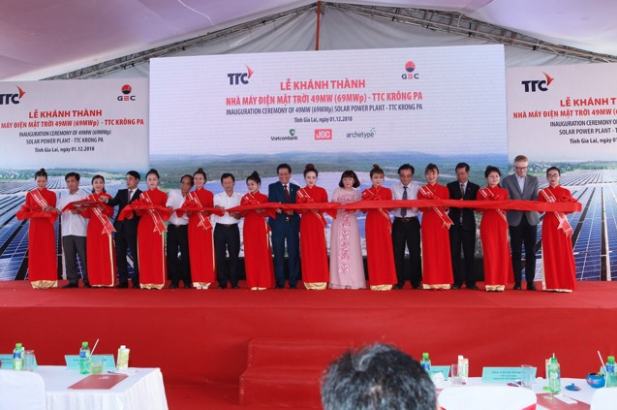 Vietnamese conglomerate TTC Group and Gia Lai Electricity JSC (GEC), a member of the TTC, have launched a 49MW solar PV project in Krong Pa District in Gia Lai Province, Vietnam, which is the company's second plant, and the largest in the country.
The system was built on 70.2 hectares of hilly land in Chư Gu Commune and it required investment of more than US$60 million. It used around 209,100 solar panels.
TTC Group Chairman Đặng Văn Thành said: "Currently, Việt Nam is a developing country with a population of nearly 100 million people, with an increasing urbanisation rate, improved economic conditions and better living standards. Energy demand continues to rise. This presents a significant challenge in the development of the energy sector."
In October, the TTC Group and GEC also opened the 48MW Phong Dien solar power plant in Thua Thien-Hue Province, the first significant large-scale solar power plant in the country. The company is aiming for 1GW of solar capacity by 2020, with another four projects set to come online before the feed-in tariff (FiT) deadline of June 2019.
The forthcoming edition of PV Tech Power, which has just gone to print, will also feature an analysis of the current state of the Vietnamese solar market.