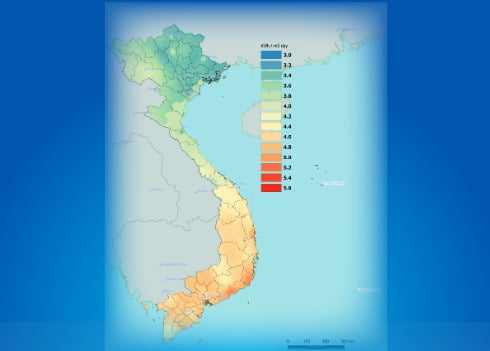 Vietnam's final solar power purchase agreement (PPA) has to a large extent ignored recommended changes from a group of international Chambers of Commerce and therefore its attractiveness to foreign investors remains in doubt, according to representatives from law and finance sectors.
The Ministry of Industry and Trade (MOIT) officially released a Circular including the revised solar PPA this week, acting as a mandatory template for utility-scale and rooftop solar projects.
The Vietnam Business Forum (VBF), an umbrella group for multiple international Chambers of Commerce, had expressed a long list of concerns about the original draft PPA back in May.
However, Gavin Smith, director, clean development, Vietnam-focused asset manager Dragon Capital, told PV Tech that the "only significant change" in the newly-amended PPA is in relation to a currency convertibility issue involving the VND/USD exchange rate. This has been clarified with new wording, which Smith described as "very welcome".
On the other hand, Smith noted: "In the case of all the other significant changes that were requested by the Foreign Chambers of Commerce there's been no change whatsoever; no improvement.
"And those remaining issues mean that no foreign bank will fund projects with that PPA."
A release from law firm Duane Morris Vietnam also highlighted the lack of change, and declared that it "creates bankable issues for solar projects and a hindrance to foreign investors planning an investment in the sector".
The company also noted that only minor changes are expected to be permitted during PPA contract negotiations.
As before, monopoly utility EVN is obliged to purchase solar power, except in certain outstanding circumstances, such as if the transmission grid or the distribution grid connected to EVN's grid is facing difficulties. These outliers still leave solar developers unprotected with uncertainty for investors in securing revenue from PV projects.
This was just one of many more concerns listed by VBF back in May, which have not been addressed, according to Smith.
Before VBF's warning, multinational law firm Baker McKenzie had also said that MOIT's solar guidelines failed to address a range of issues that could impact large-scale project bankability, while criticising the 'non-negotiable' template drafted for all grid-connected solar PPAs.
This week an official from MOIT told PV Tech that the PV industry response to the new solar feed-in tariff (FiT) had been "overwhelming", with more than 1,700MW of solar either applied for, under development or awaiting approval at present. The official had also said there were no major plans to alter Vietnam's previously announced solar policy.