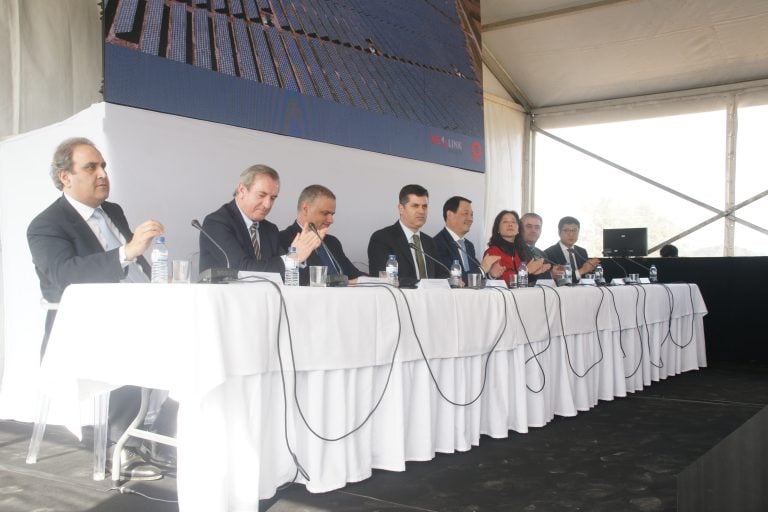 UK-based solar firm WElink Energy will develop a 220MW solar plant in southern Portugal, having signed an EPC agreement with China Triumph International Engineering (CTIEC).
The £200million Solara 4 solar project, spread over 800 hectares in Vaqueiros, in the region of Algarve, will produce enough energy for the equivalent of 200,000 homes.
WElink claims this is the largest privately funded PV project in Europe.
Construction is to start before the end of Q1 this year and will create 200 construction jobs, with up to 600 at peak times. In operation there will be 30 permanent operation and maintenance jobs. It will start feeding electricity to the grid by mid-2018.
Portuguese economy minister Manuel Caldeira Cabral, who attended the signing ceremony, said: "Consumers have in the past paid higher prices for the promotion of renewable energy, we do not want to stop the progress that renewable energy can have, but fortunately the technology has evolved and evolved in a way that solar energy can now be competitive, paying the investment with unsubsidized tariffs."
WElink Energy chief executive Barry O'Neill said: "We are delighted by this deal to develop one of the world's largest green energy power plants in Portugal. Solar generation is an advanced technology by renewables standards and is playing a significant part in helping Europe meet its climate change obligations."
This is the first of a series of investments that WElink wants to carry out in Portugal.
Other large-scale solar plans from the Portuguese government face an uphill struggle without subsidies at present.
This article has been revised to say that CTIEC will perform EPC services.