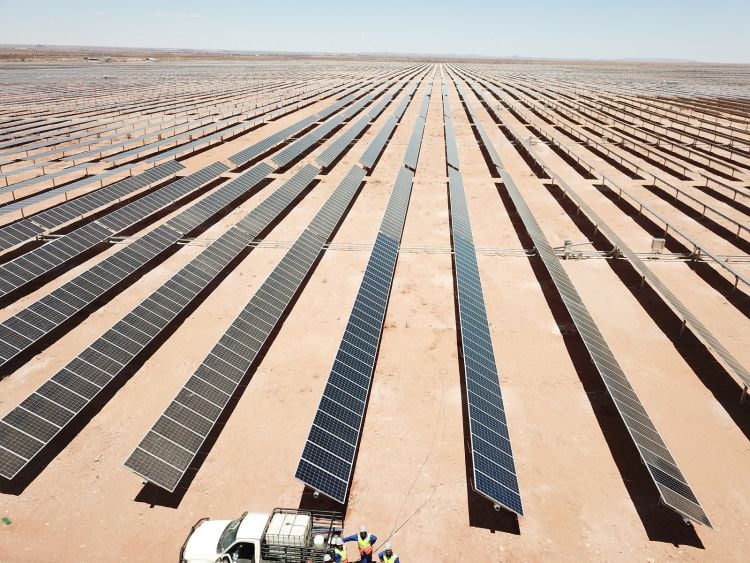 With the sixth auction round of South Africa's REIPPP on the horizon and new opportunities for distributed PV opening up, Alice Grundy explores the remaining barriers to solar deployment in the country.
---
Investment opportunities for solar PV in South Africa – at both utility and distributed scale – are abundant, but limited grid capacity and delays in previous tenders are proving challenging for deployment.
That's according Silvia Macri, principal research manager, Africa and Middle East Power & Renewables – Climate and Sustainability at IHS Markit, who says that for utility-scale solar, South Africa's lifting of the capacity threshold up to 100MW for embedded generation systems will unlock new potential among large industrial customers that can implement independent renewable-based projects and 'wheel' power – which involves procuring power from a remotely-located generator – through the central grid.
"Previously, access to cleaner alternative energy solutions has not been possible for most residential and C&I customers due to the high costs involved in setting up a solar PV system. However, over recent years more local banks, finance companies and crowdfunding platforms offer accessible financing options to residential and commercial and small industrial customers making solar PV systems more affordable," Macri says.
Wheeling has its own challenges, with Macri stating the regulatory framework for wheeling is still immature.
Other opportunities for utility-scale solar includes the country's Renewable Energy Independent Power Producer Programme (REIPPP), which offers IPPs power purchase agreements (PPAs) with state utility Eskom.
Results of the fifth bid window of this programme were announced last October, with 1GW of solar awarded contracts. But previous rounds of the programme – most notably 3.5, 4 and 4.5 – have faced serious delays in the signing of contracts with Eskom.
"South Africa's local supply chain has suffered the impact of volatile business activities due to backlogs and delays across various REIPPP rounds," Shaunagh Moodie, research analyst, Clean Energy Technology at IHS Markit, told PV Tech.
While manufacturing facilities were established in early REIPPP rounds, some have since been liquidated as they were no longer financially viable. "Currently, the country has two local PV module suppliers, and one local inverter manufacturer, rendering the local supply chain unable to service capacity and technology demand driven by local content requirements.
"These insufficient manufacturing capacities resulted in several exemptions being granted for local content rules, which has consequently weighed on investment confidence," Moodie says.
Solar PV developers in South Africa are also faced with constraints on the grid, particularly in the Northern Cape, an attractive area for development due to its high solar resource. These constraints are creating a "major bottleneck" in the region, according to Macri.
Opportunities for distributed solar PV
For the distributed segment there are opportunities for residential customers willing to reduce their grid power consumption and commercial and small industrial customers looking to lower reliance on grid power.
This is a present driving force partially due to the frequent load shedding – scheduled outages on the grid due to insufficient supply to meet demand – on South Africa's grid.
Load shedding was first implemented in 2008 due to the supply constraints faced by public utility Eskom as a result of aged infrastructure and excess demand. While capacity investments have since led to oversupply and high reserve margin, the availability of capacity remains low. Macri says this is a result of unscheduled shutdowns and maintenance issues.
"New capacity additions going beyond IRP 2019 plans and better energy planning with transmission investments would help solve the problem in the long term," Macri says.
The IRP – the Integrated Resource Plan – is an electricity infrastructure development plan based on least-cost electricity supply and demand balance. It included plans to pursue a diversified energy mix, describing the huge potential of renewable energy for the creation of new industries, job creation and localisation across the value chain.
"One important step is also being made with the unbundling of the transmission operations from Eskom's portfolio, which could potentially increase market competitiveness for the Independent Power Producers," Macri says.
In 2019, it was announced that Eskom would be unbundled into three wholly owned entities, with these being Generation, Distribution and Transmission.
"Hybrid solar systems have also been growing in popularity as they offer the advantage of continuing to provide power during power blackouts. These systems generally include a solar PV system coupled with a battery energy storage system," Macri says.
While this is often a more costly option, increased finance availability has made it a more affordable and accessible option for many residential, commercial and retail customers who have their working hours impacted by load shedding.
"This is especially the case for many residential customers who have been working from home during the pandemic," Macri says.
Overall, despite delays in the REIPPP tenders and the capacity constraints, Macri says solar PV shown growth in South Africa and "is a key renewable technology option" for the country.
A full in-depth dive into South Africa's solar PV market and REIPPP auctions will be published in the forthcoming edition of PV Tech Power, out in mid-February.