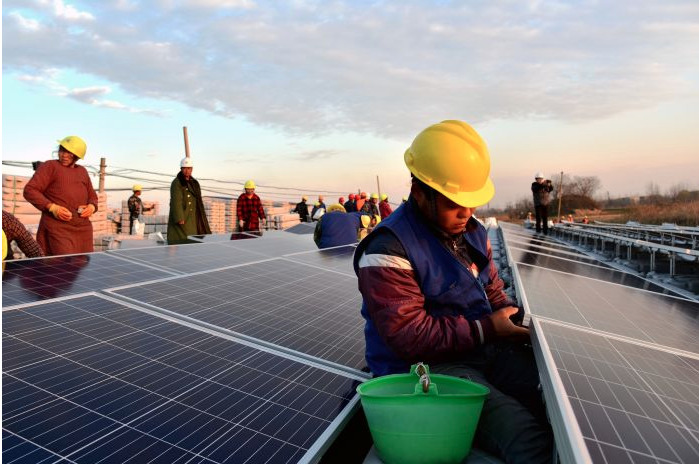 China-based firm Three Gorges New Energy, a subsidiary of Three Gorges Corporation, has partially connected a 150MW floating PV project to the grid in eastern China, with the remaining capacity to be connected in May 2018.
The CNY1 billion (US$151 million) project, located in Panji District, Huainan City, joins a host of other world-beating solar projects being developed in Anhui Province. PV Tech reported over the summer that Chinese inverter specialist Sungrow was also set to build its own 150MW floating plant in this region.
The Three Gorges project, on which construction started in July, uses the water surface from a coal mining subsidence area. It also involves the employment of many locals in both O&M and construction services.
A Three Gorges release said the project requires tax payments of CNY25 million per year to the local government to help it transform the wealth-making ability of the area from underground in mines to overground with solar – naming this transformation "black to green".
Floating solar benefits from not requiring land acquisition and it can see improved yield through the cooling effect of the water body on the panels and cables, particularly in hot climates. It also reduces water evaporation and the growth of algae.
The previous largest floating project of 40MW was built by Sungrow also in Anhui Province. Chinese firm CECEC is also constructing a 70MW projects in the same region of China.
Last month, Indonesian power company PT Pembangkitan Jawa-Bali (PT PJB), a subsidiary of state utility PLN, and the UAE's Masdar signed an agreement to develop the world's largest floating solar project with a capacity of 200MW in Indonesia.
Korean firm Hanwha Group also announced it had won a bid to construst a 100MW floating solar plant in South Korea to supply enough energy for 140,000 people.