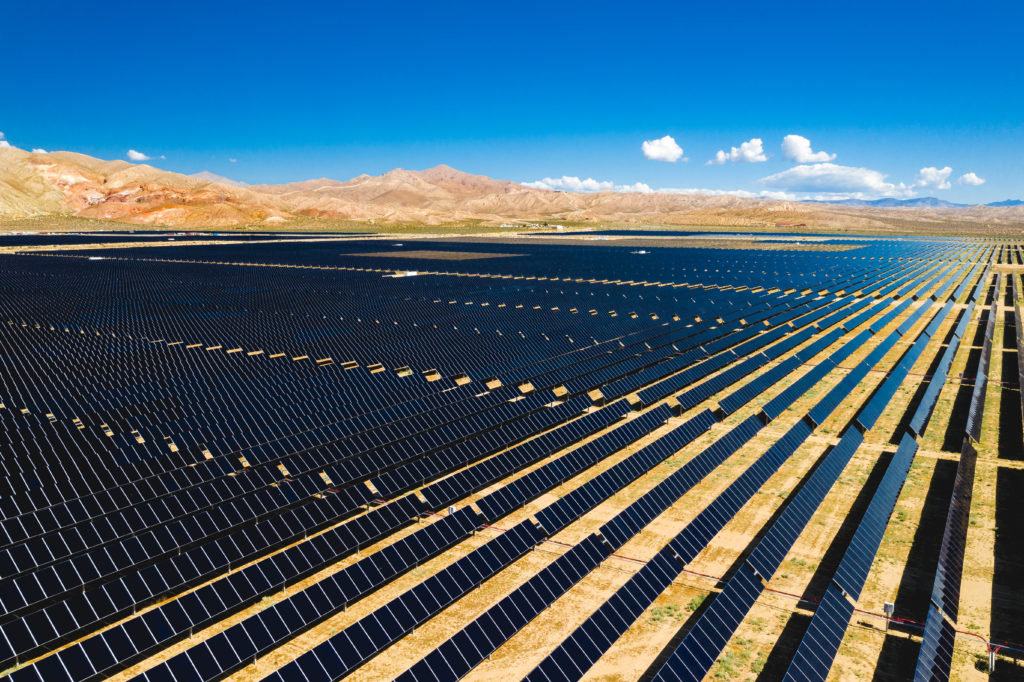 US solar and storage developer Avantus is scaling up a strategy of deploying high-capacity factor power plants that aim to maximise transmission infrastructure while limiting curtailment.
Recently rebranded from 8minute Solar Energy, the California-headquartered company announced earlier this month that its development pipeline has doubled over the last two years to reach 42GW of solar and 78GWh of energy storage.
The rebrand was undertaken to reflect the company's expanded scope beyond solar development to include what it calls an "advanced ecosystem of clean energy products, services and technologies".
Alongside alleviating curtailment, Avantus's power plants can deliver flexible, predictable output that can help utilities manage load, according to Stephanie Perry, appointed the company's COO last year.
"Where Avantus technology differentiates itself is our controls system," she says. "Our novel controls enable storage and PV to work together as one seamless system, integrating renewable energy into existing electric grid control centres as if they were a traditional fossil fuel generator."
She adds that while solar with storage is largely thought of as the solution to intermittency, hybrid solar plants can also provide transmission and distribution services that promise to expand the potential of renewables on the grid.
The company said that its technology and design optimisation tools can unlock new value for renewables. Grid stabilisation like frequency regulation and ancillary services, and the ability to bring a plant online instantaneously, make renewables "more reliable than fossil fuels", Avantus claimed in a recent press release.
Perry points to the company's Eland Solar & Storage Center in California, which will pair 400MWac solar PV with 300MW / 1,200MWh of battery storage. With a power purchase agreement (PPA) in place with municipal utility Los Angeles Department of Water and Power (LADWP), the installation will be fully operational in 2024.
"With a high capacity factor of 60% during the summer months (which is 50% more than a simple solar plant), the project maximises the use of existing transmission infrastructure to help LADWP and its customers avoid the significant cost and time burdens of new construction," Perry says.
Avantus's new strategy comes after it closed US$400 million in financing earlier this year from institutional investor EIG to bolster its US solar PV and energy storage pipeline. The company's development pipeline now spans more than 90 utility-scale projects across California, Texas and the US Southwest.
A growing pain the solar industry faces is rapid technological advancement, according to Perry. While this has an important role in reducing system costs, she says construction methods can take longer to catch up with new technologies, leading to difficulties in pricing productivity and wrapping the risk of the new technologies.
"And when there is an absence of operating history, it can be difficult to get third parties onboard and comfortable with financing and working with the risk," she adds.
As part of efforts to optimise value from each project, Avantus tests the latest module and storage tech, while it also has a research and development facility where teams focus on technology that might not yet be commercially available.
One area where the company is aiming to expand its position is green hydrogen. With its possibility of decarbonising heavy industry and transportation, green hydrogen's potential "is inarguably huge", Perry says.
Avantus is part of the HyDeal Los Angeles, an initiative from non-profit organisation the Green Hydrogen Council that aims to deliver green hydrogen at a price of US$1.50/kg by 2030.
Perry says: "We believe applying our integrated design approach and using our strategically positioned exiting solar assets towards producing green hydrogen, we are poised to be an early cost-leader in producing and scaling green hydrogen."