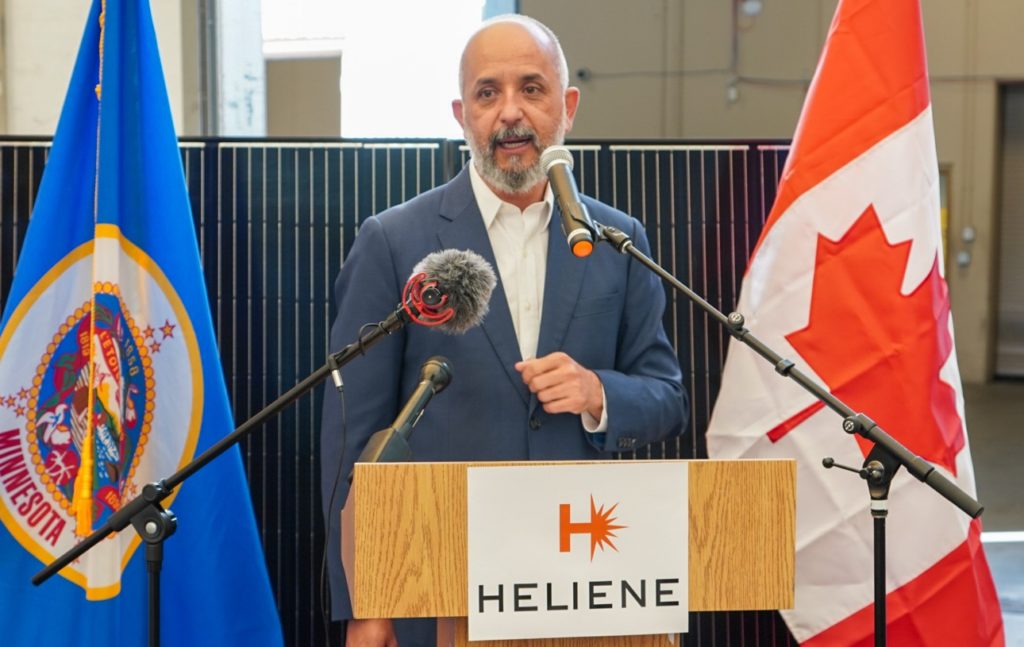 Canadian module manufacturer Heliene is planning a further buildout of its US manufacturing base following the Inflation Reduction Act (IRA), with plans in motions for another module line as well as 1GW of cell capacity, says its president Martin Pochtaruk.
Heliene currently has 450MW of PV module capacity in the US and work is almost complete on its new 400MW production facility in Minnesota, which Pochtaruk said is almost finished with equipment being brought in and final touches being made to its office space. This will be officially open on 27 October in a ribbon cutting ceremony attended by Duluth Senator Amy Klobuchar.
Add onto this 250MW of capacity in Canada, and this takes Heliene's total production capacity to 1.1GW.
But that was before the IRA, however. The company is now planning a further buildout of US manufacturing as it seeks to take advantage of the lucrative support schemes contained within the Act. These have been designed to not only encourage US PV manufacturing but also incentives for project development that will drive up demand for modules.
Pochtaruk told PV Tech Premium that Heliene – which was in attendance at a White House meeting to explore how the US could kickstart its PV manufacturing industry – was planning to develop a 450MW-500MW production line in another location in the US towards the end of 2023. It is looking at different locations and targeting existing buildings.
Moreover, this will be accompanied by a 1GW-1.2GW solar cell facility for self-consumption that Pochtaruk says will make the company more vertically integrated and ensure a stable supply of US-made cells for its module production. It will still source its further upstream components from ex-Xinjiang regions in China until more US supply comes online.
Against the backdrop of US import restriction as a result of the Department of Commerce's investigation into alleged anti-dumping and circumvention of import trade rules by solar manufacturers in Southeast Asia, Heliene had seen demand for its modules skyrocket as US developers scrambled to secure North American-made modules, Pochtaruk previously told PV Tech.
And despite the restrictions being supplanted by President Joe Biden's executive order waiving all anti-dumping and countervailing duties (AD/CVD) tariffs for two years, demand for Heliene's products has not diminished. Pochtaruk told this site that the company is currently sold out until 2024 and that it could extend this further if it was sure on where the market would be.
Instead, it is now "allocating capacity", rather than selling it, which means it is entering into contracts that will fix a price for products 120 days prior to delivery. At that point, prices will be decided on a cost-plus basis, given nobody knows where inflation and shipping costs will be then, Pochtaruk explains.
Heliene is not the only solar manufacturer planning capacity additions following the IRA. Notable announcements have come out from Meyer Burger, Nextracker, First Solar, REC Silicon and Hanwha Solution, to name but a few.