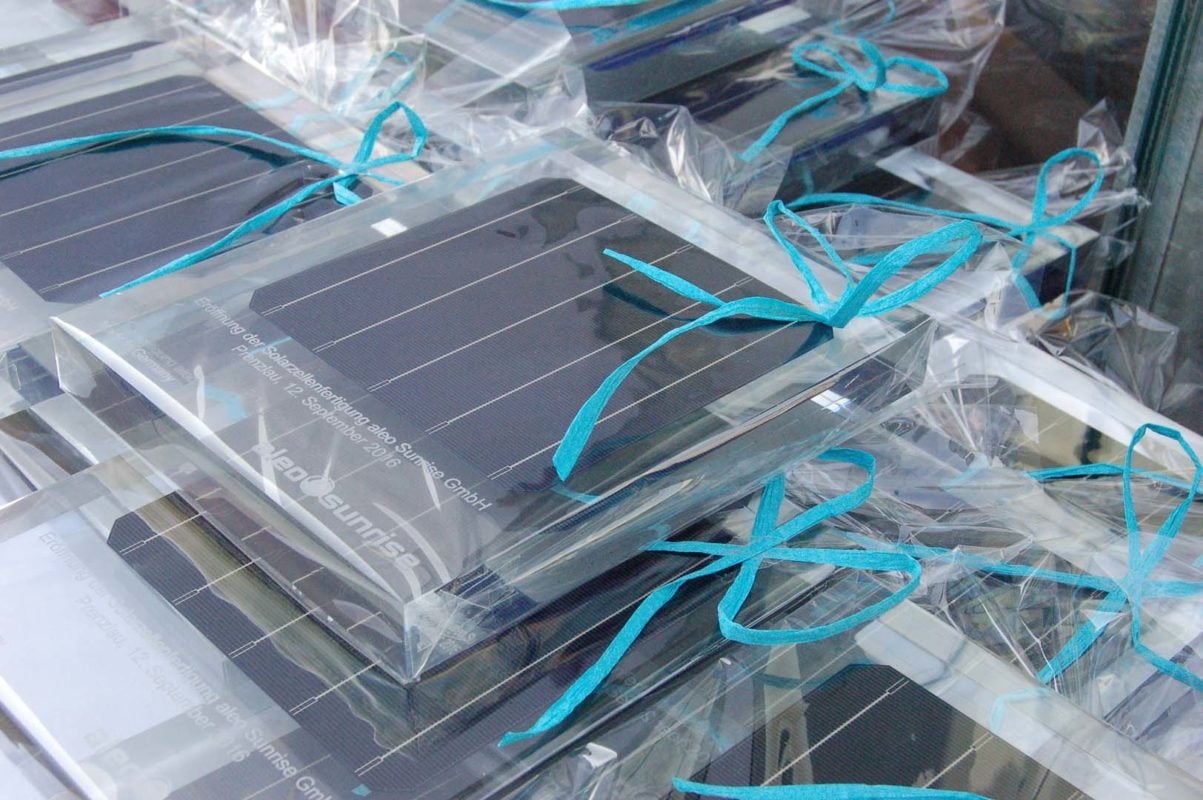 According to the ongoing analysis of global PV manufacturing capacity expansions by PV Tech, high-efficiency solar cell migrations, whether monocrystalline or multicrystalline with PERC (Passivated Emitter Rear Contact) and N-type mono heterojunction (HJ) have been gaining strong momentum since 2015.
Overall high-efficiency monocrystalline solar cell capacity expansion announcements in 2016 accounted for around 40% of the global total of c-Si cell expansion plans, up from around 26% of the total in 2015.
In 2016, a total of around 38GW of c-Si solar cell expansion plans were announced globally, which included almost 11GW of dedicated mono c-Si cell capacity, compared with almost 27GW of multi c-Si solar cell plans.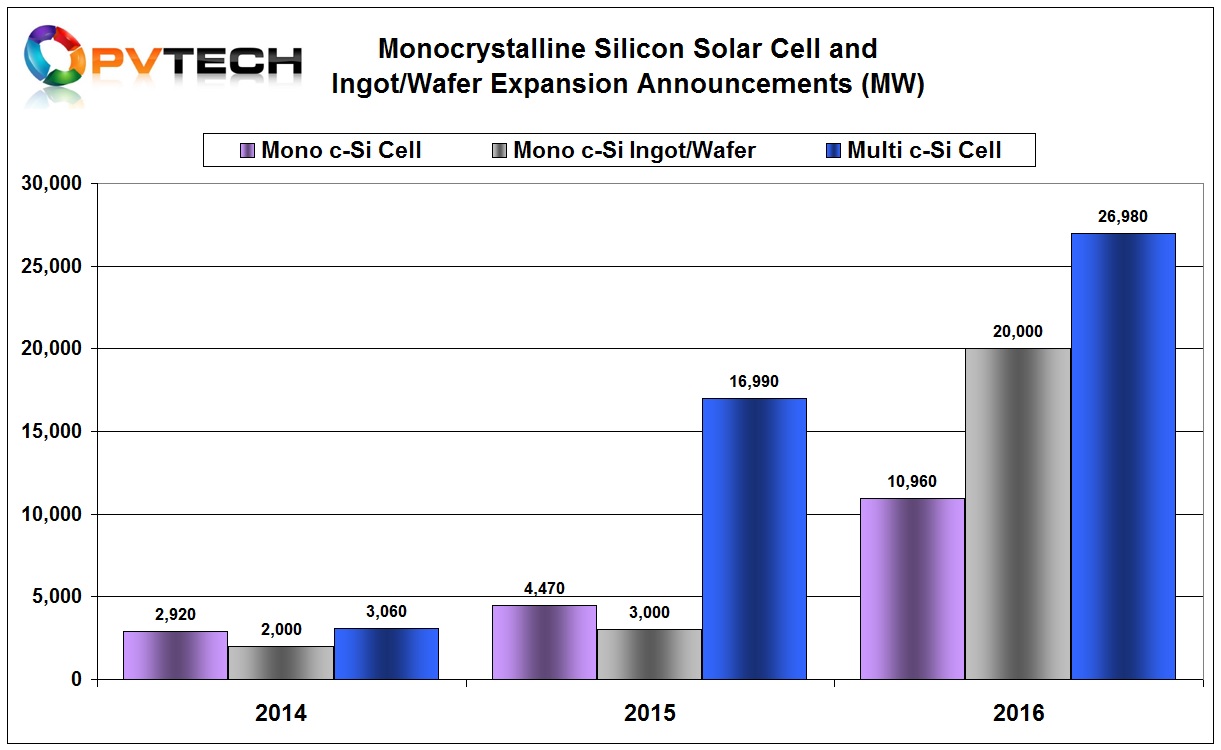 In this analysis, PV Tech has only included solar cell expansion announcements that specifically stated that the plans related to P-type or N-type mono as well as heterojunction and hybrid N-type mono cell architectures.
A key reason for this is that a number of PV cell and integrated manufacturers that can produce both P-type mono and P-type multi cells have typically not broken out whether the cell capacity expansions include both wafer types. Indeed, another challenge has been examples of later conversion of P-type multi cell lines to allocate some capacity to mono cell production.
With 2014 classified as the year that capacity expansions restarted after several years of chronic overcapacity, it is interesting to note that the ratio of mono to multi c-Si solar cell capacity plans was almost equal, albeit a low levels of 2.9GW and 3GW, respectively.
The significant amount of capacity expansion announcements in the later part of 2015 shifted the emphasis to multi c-Si cell lines and away from mono. In 2015, dedicated mono expansions totalled nearly 4.5GW, while multi cell expansions almost topped 17GW. Mono cell planned expansions fell to only around 26% of the total.
One of the key reasons for the dominance of P-type multi c-Si cell capacity expansions in 2015 was the significant expansions being made by the 'Silicon Module Super League' (SMSL) members (Trina Solar, Canadian Solar, Trina Solar, JA Solar and Hanwha Q CELLS) with high reliance on multi and the establishment of meaningful new PERC (Passivated Emitter Rear Contact) cell technology capacity.
Another aspect that hindered mono capacity expansion plans was the lack of low-cost P-type mono wafers and limited 'effective' capacity expansions in 2015, which at around 3GW were actually less than the mono cell line expansions (4.5GW).
However, PV Tech has extensively covered the transition of mono ingot/wafer production from a niche high-cost substrate to an increasingly cost competiveness with multi c-Si wafers, driven primarily by technology and capacity developments at LONGi Silicon Materials.
2015 can be seen as a transitional year for mono wafer cost competitiveness and availability, while 2016 can be seen as more transformative on both levels.
Not only did 2016 provide more than a doubling (10.96GW) of mono c-Si cell capacity expansion announcements, a conservative 20GW of mono ingot/wafer capacity expansion plans were also announced that year.
The greater availability of mono wafers at cost competitive pricing will remain a key adoption driver and could accelerate solar cell production migration away from multi to mono over the next few years.
However, multi c-Si solar cell production is still expanding at higher capacity volume rates than mono and is expected to remain the workhorse of the industry through the next few years.
PERC on the rise
As with wafer type, not all multi and mono solar cell capacity expansion plans cite specific cell technologies being deployed. Indeed, even when a technology such as PERC is cited it is not always apparent as to the percentage of PERC capacity to standard BSF (Back Side Field) cell technology that is included in the total new nameplate capacity being added. There have been incidences in 2015 when PERC was announced but not actually deployed in the initial ramp of new facilities.
Therefore, even when only citing figures for PERC that were specifically stated in planned capacity expansions in 2015 and 2016, these figures could be compromised to some degree.
This also relates to BSF to PERC upgrades at existing manufacturing facilities. Not all PERC upgrades at exiting facilities are announced, although tracking cell equipment supplier orders does indicate higher amounts of upgrades via this route than the number of announced upgrades.
In 2015, PERC solar cell upgrades at existing facilities that were officially announced by manufacturers totalled only 460MW, while tool orders were in the several gigawatt range. However, in 2016, PERC solar cell upgrade announcements reached 2,500MW.
Actual new capacity expansion announcements related to PERC in 2015 reached 7,200MW, while in 2016 the figure was lower at around 6,900MW. Again, it should be highlighted that any decline is suspect, especially considering the significant increase in overall solar cell capacity expansion plans seen in 2016. The lower figure is more likely due to the lack of detail provided by manufacturers on the process technology or technologies being deployed.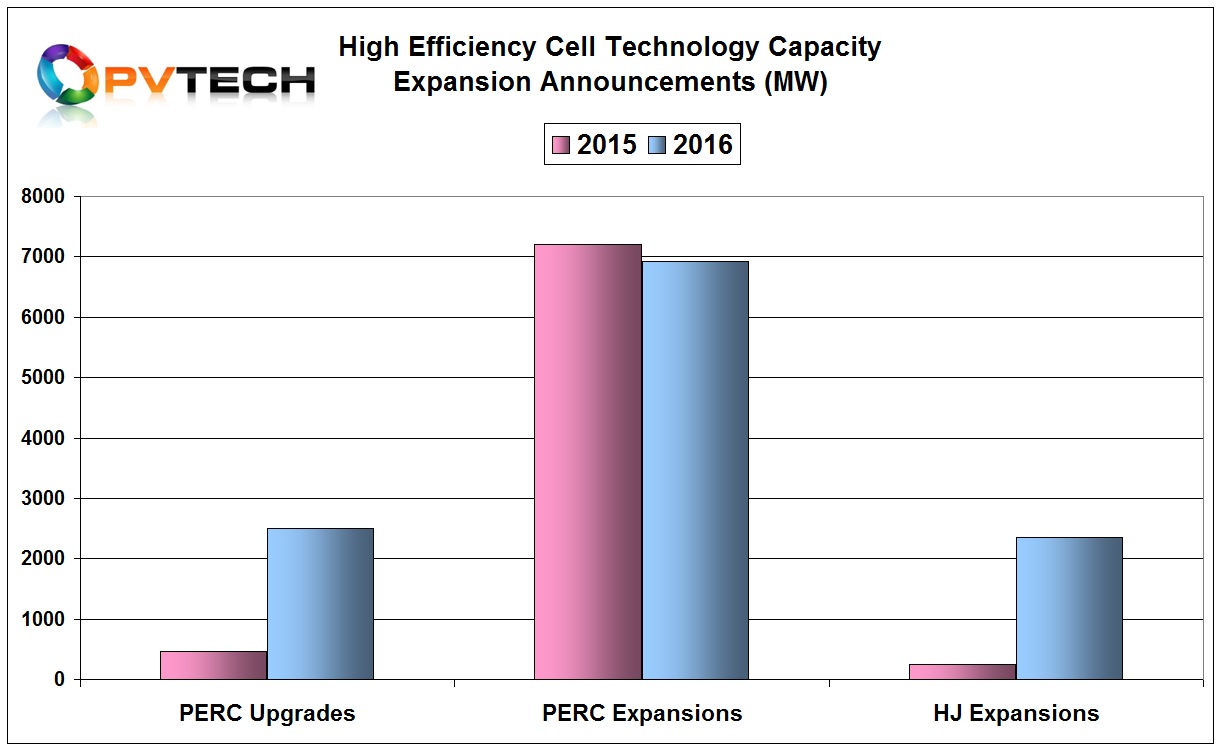 Another interesting development is the momentum being built for HJ technology. In 2015, only 250MW of HJ cell expansion plans were officially announced, while this figure jumped significantly to 2,360MW in 2016.
However, some of the announcements lacked timelines and other crucial information but around 1,000MW of HJ solar cell expansion plans in 2016 seem to have a good level of legitimacy, not least due to the end of year plans announced by Panasonic in Partnership with Tesla at the SolarCity/Silevo 1GW Buffalo fab in the US.
Although both parties failed to highlight the planned nameplate capacity, PV Tech has estimated the plans to be around an initial 400MW.
With nearly 27GW of multi c-Si cell capacity expansion plans announced in 2016, the vast majority of which occurred in the first-half of the year, it will not become clearer as to the amount of effective capacity that comes on stream or process technology deployed until the second-half of 2017, notably due to facility construction and equipment lead times.
However, what is apparent from the capacity expansion announcements is growing momentum towards higher efficiency mono c-Si production and high-efficiency solar cells, primarily through PERC migration, a trend expected to continue over the next three to five years.
As a benchmarking event for any company in PV manufacturing today, PV CellTech will again prove to be the one event not to miss on the PV calendar for 2017. Details on how to register for the event, and much more on the March 2017 speakers and topics, can be found through this link.