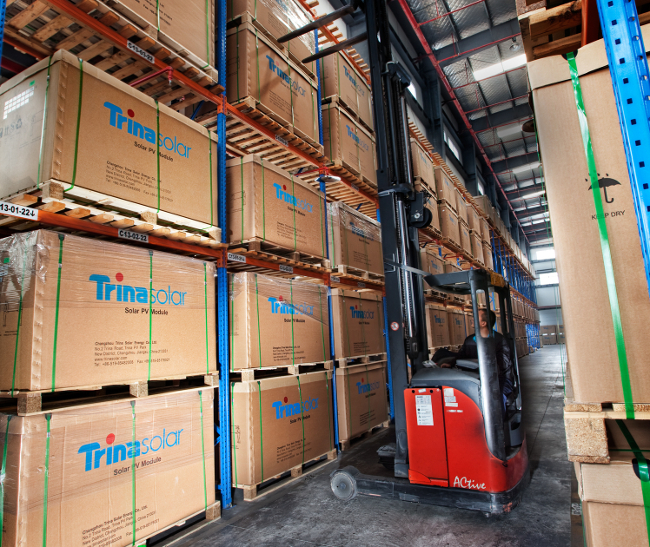 India's solar sector is on tenterhooks at the moment as it awaits the results of an anti-dumping investigation into solar cell imports from China, Taiwan and Malaysia. When the inquiry was first announced, many brushed off the threat, believing that India's 100GW by 2022 solar target was far too precious for the Central government to consider a move that could in any way hinder its progress. However, at Renewable Energy India Expo near Delhi last week, many of the developers, manufacturers or EPC firms that spoke to PV Tech were confident that some form of trade barrier would be brought in. Top level representatives from the likes of Vikram Solar, Gensol, Sterling & Wilson, Hero Future Energies and many more were all anticipating the government to rule in favour of duties, but the actual outcome of course remains highly uncertain. An executive of one Indian manufacturer even told PV Tech that he was 99.9% sure duties would come, but admitted that experience tells him anything could happen. Another developer remarked: "Everybody knows it's coming. There are certain numbers which are floating around, but nobody knows the real number and if anybody claims to know the number they are just fooling themselves."
Needless to say, there are many in the industry that think duties won't be enacted and the sector is still scratching its head at how Azure Power and other winners plan to build 500MW of solar at INR2.65-2.67/kWh (US$0.04-0.041) from the most recent Gujarat auction. Changes at the top could also pull things the other way.
Jasmeet Khurana, associate director, consulting, Bridge to India, said: "Up until a few weeks ago, it seemed that Indian government was fairly convinced about imposing anti-dumping duties. However, there have been several changes recently. Both the Minister for Power and Minister for Commerce have been changed. This is causing delays and the market is hoping for a rethink from the government."
Khurana also noted rumours that the presiding commissioner on the trade investigation had been changed, while, the sector has yet to hear where the Minister for Commerce stands on the matter, which suggests that a government rethink is not out of the question. However, MNRE secretary Anand Kumar has expressed urgency in supporting local manufacturing, noting that India must stand in its manufacturing base to reach its target, even though it currently does not have anywhere the near the required capacity to cater for its multi-gigawatt PV market.
No doubt, last week's US International Trade Commission decision to proceed with the Suniva Section 201 trade case will also influence the final decision of India's policy makers, but this government also has a history of crushing PV anti-dumping recommendations as it did in 2014.
Sympathy for India's manufacturers
Clearly, it would be naïve to guess whether any anti-dumping (AD) proposals would be enforced and at what level, but the uncertainty around it continues to affect the Indian solar sector, with developers unsure about pricing while tendering activity has all but dried out in recent months. On this anti-dumping issue, there has generally been a divide between the manufacturing side and the developers. Some antipathy remains, but several Indian developers have started to express genuine sympathy towards the plight of the manufacturers, believing that manufacturing should have been nursed in India in the same way the downstream sector was, or at least it should have been given some kind of target to aim for, to complement the 100GW PV goal.
For example, Rahul Munjal, chairman and managing director of developer Hero Future Energies said that government attempts to reduce dependency on fuel imports were merely being replaced by the dependency on Chinese PV module imports, which now account for roughly 80% of the Indian market. Moreover, if 80GW of the target were to come from Chinese modules it would result in multibillion dollars' worth of Chinese imports, leaving bigger questions about India's longer-term vision of becoming a 15-20GW+ annual market post-2022.
"The next best thing is to grow your own in Indian manufacturing market," Munjal added. "Unfortunately the manufacturing base is still very small so the quickest way to get there is to put an anti-dumping duty on it today so the Indian manufacturing gets some boost. So maybe in two to four years from now we are able to produce the same products at the same price and we have a good home grown industry."
Effects on downstream PV
Importantly, Munjal believes that downstream progress would not stop purely due to anti-dumping duties, because the price of solar is already so low. There is room for a bump that adds several paise to tariffs, while still supporting home-grown manufacturing. The government will surely be doing careful sums and projections to verify this. Nevertheless, Munjal does admit that there are a huge number of uncertain variables affecting how a developer approaches auctions right now, including the GST tax, the anti-dumping threat, module price fluctuations and currency risks.
Anmol Singh Jaggi, co-founder at solar O&M and advisory firm Gensol Group, also said that depending on the level of duties set, India would be looking at a six-month slowdown and noted: "In India all of us have great resilience so we will all bounce back in six months."
Munjal added: "We already have a really bad trade balance with China so we need to close the gap not increase it."
However, optimism about the industry being able to ride a bump is not shared by all. Vinay Shetty, managing director, Chinese firm Canadian Solar, which is a top three module supplier to India, said that if duties come in then many projects with low tariffs will no longer be viable.
He added: "I really don't know how these projects will be completed by the developers who have given bank guarantees, who have signed PPAs. […] In many cases the IRRs would go negative, leave aside low IRRs, it's just negative. So it's not going to be good, I don't foresee a good future when the AD duty comes in."
Indeed developers who don't finish projects in India face plenty of trouble, including blacklisting, high penalties and forfeiting bank guarantees.
Safeguard Duties
Of course, ordinary AD duties on imports from China, Taiwan and Malaysia are not the only threat, with Safeguard Duties, which are geographically agnostic, also on the cards.
"A more important question troubling the solar industry is whether India will impose provisional anti-dumping duties, which can potentially come in anytime now and disrupt the market," Khurana added. "The other, more acceptable possibility, is that India will choose to go through the process for 12 months before announcing any duty."
Being geographically agnostic, safeguard duties would also hamper attempts to circumvent AD duties by exporting modules from the likes of already well-established manufacturing hubs in Thailand and Vietnam.
The industry now awaits the Directorate General of Anti-Dumping & Allied Duties (DGAD) from the Ministry of Commerce to make its recommendations of provisional and/or final duties to the Ministry of Finance.
Would they work?
Perhaps the most important question is whether anti-dumping duties would actually achieve their aim of boosting local manufacturing or cause more damage than good. Many commentators point to a history of failure for trade duties, particularly in the US and Europe.
Ivan Saha, CTO and BU head, solar manufacturing at Indian manufacturer Vikram Solar said the firm is sympathetic to duties if they promote local manufacturing without having a reverse impact. For duties to work, current manufacturers would need to expand and new players would need to come in to India. This will happen when there is sustained market demand for domestically manufactured products in Indian projects.
Saha said: "The key here is anything that is manufactured in India has to be globally competitive."
He added that if most Indian manufacturers do not become competitive then AD duties might give temporary relief but would then hit the industry in the long run. At present, Indian manufacturers are at varying levels of competitiveness, he said, with some struggling to compete with tier-one Chinese firms. But, if there is a mass movement towards competitiveness then the industry could flourish. This would require multiple changes at policy level to make manufacturing an intrinsic part of the 100GW target.
A representative from another Indian manufacturer said the publicized policy of allocating local content solar projects to Central Public Sector Undertakings (CPSUs) could be a huge driver. Claiming that, the touted 7.5GW of CPSU projects was just the tip of the iceberg, the manufacturer said there were enormous opportunities in defence, railways, ports and others. The source also agreed that a proper manufacturing plan was critical, but claimed that this issue is being seriously addressed by the government.
He also claimed that the new energy minister R.K. Singh, shares the enthusiasm of Narendra Modi – for whom solar is a pet project – but also recognises the importance of domestic manufacturing.
Setting up in India
India has all the raw materials it needs to have a fully integrated manufacturing base, claimed one manufacturer, and the central government has voiced plans to set up an ingot and wafer facility, possibly with some form of subsidy. While it is on the government's mind it may be delayed for at least a year or two.
Either way, India would still need cell and module makers to come in. Back in 2015, following the Re-Invest event that was designed to lure renewables investment to India, several big name players signed MoUs looking to set up big fabs, but of these only the plans of Indian conglomerate Adani have come to fruition.
Canadian Solar's Vinay Shetty said his firm was one of the first to consider setting up in India, looking at around five states. After detailed calculations, the firm found that manufacturing could easily be set up in India, but modules would cost around US$6-7 cents higher than in China. It looked around for who might be able absorb these higher costs, but nobody would pay it.
Asked whether AD duties and the GST tax would make setting up in India more attractive than before, Shetty said: "I think it's just the same, maybe a little impact on cost but still I think we can't justify maybe even a 4-5 cent higher cost. It would be there even if the GST has come in."
China accused
The ability of China to provide modules at such a lower cost is exactly what irks some in the Indian industry. Developers can't win open category tenders at current prices by buying locally. Moreover, prices have gone up in recent months, so Indian developers really are, as Bridge to India described it, "stuck between a rock and a hard place".
One Indian manufacturer accused Chinese firms of selling cells and modules below cash costs for little or no profit and claimed that this had decimated the manufacturing industry across the rest of the globe, particularly in the previous stalwart zones of the US, Europe and Korea. Turkey, which has its own AD duties and manufacturing incentives was an exception, while Brazil's local content incentives have seen big name Chinese firms set up shop locally. The manufacturer also said eight or nine out of ten panels being sold worldwide today coming from Chinese firms was a "ludicrous" situation, given that he also predicts almost every country to have gone solar within the next five years.
What China thinks
From the Chinese point of view, Canadian Solar's Shetty said that an AD duty would be a trade barrier blocking suppliers from China, Malaysia and Taiwan, even though he claimed that AD duties had historically done no good anywhere in the world.
He said: "It may look like a protection but many a time it serves the other way – the effect is actually bad. You are going to save 1% of the jobs but 99% of the jobs lie elsewhere – those get sacrificed."
Back in July, China's Ministry of Commerce responded to India's initiation of an anti-dumping investigation by labelling it an "abuse of trade remedy measures", but also seeking to cooperate in resolving the trade issue.
Timelines
This week, DGAD revealed which companies were going to be sampled as part of its investigation and an announcement on the findings of the investigation are due any time, but proceedings have already faced delays and could drag on for some time. An announcement on safeguard duties is also expected.
Over the last few years we've heard much about the 'Make in India' programme, but this has failed dismally to benefit local PV manufacturers. It's been all rhetoric and misplaced policy. The next few weeks are a pivotal moment in this Make in India story, as well as for the whole solar sector at large.