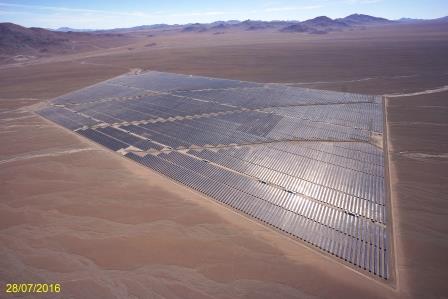 The government of Argentina's Jujuy Province announced Monday that it is planning to carry out a new 100MW phase of the Cauchari solar project.
The new Cauchari IV project, which will be located in the Puna region of Jujuy, will help increase the installation's total generation capacity to 400MW.
While the Cauchari project already boasts significant potential as a key generator of renewable energy in the region, the Jujuy government made the move to expand its operation in pursuit of new opportunities.
In order to accomplish the goal of completing the new 100MW project, a joint collaboration agreement was signed between the Jujuy government and Enel Green Power Argentina to develop the project.
The signing of the public-private partnership agreement was carried out by José María Palomares, the head of the Jujuy Energia y Mineria Sociedad del Estado (JEMSE), Gastón Morales, secretary of legal and institutional affairs; and Maurizio Bezzeccheri, Enel's country manager for Argentina.
The development of the Cauchari solar plant has been a major focus in Argentina over the past year, with president Mauricio Macri announcing federal support for what was touted as a 3GW installation back in February 2016.
This article has been revised to say that the original three projects would total 300MW capacity combined.