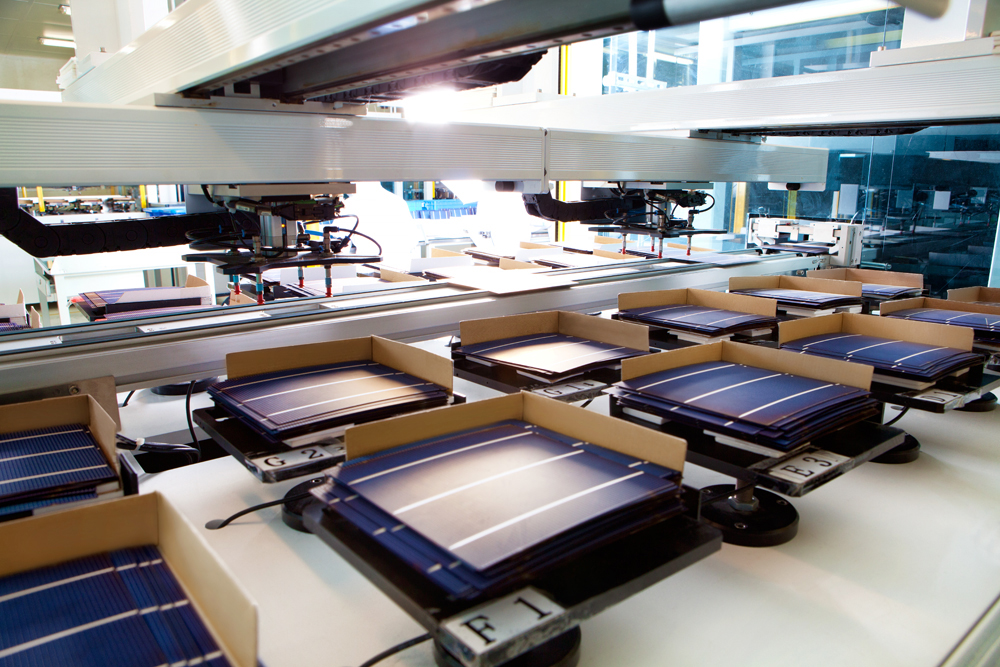 PV Tech's preliminary analysis of global PV manufacturing capacity expansion announcements in July and August, 2016 highlight the industry fears over a new period of overcapacity across the supply chain after explosive growth plans announced in the first half of 2016.
July expansion plans
New capacity expansion plans in July amounted to only 20MW, which was updated expansion plans already announced in 2016, by Malaysia-based solar cell producer, Tek Seng.
However, local new reports appeared in July, indicating JA Solar planned to build a manufacturing plant in Vietnam in the same industrial park as OEM module producer, Boviet Solar. JA Solar deferred providing PV Tech with information, while the local reports did not cite any nameplate capacity figures.
In the same month, TBEA SunOasis was reported to have signed agreements with the Egyptian government to build a 1GW PV power plant in the country that also included an unspecified integrated PV manufacturing plant. TBEA has not directly released any information on these plans.
Therefore, preliminary July expansion plans amount to only 20MW, the lowest monthly levels by a huge margin, since 2013.
August expansion plans
Preliminary capacity expansion announcements in August faired little better than July, which included 'tentative' (subject to government policy), plans by Taiwan-based solar cell producer, Inventec Solar Energy to expand capacity from around 950MW to 1,600MW. However, tentative plans already existed to boost production to 1,450MW in 2016. Local news reports cited a number of countries outside Taiwan where the expansions may take place.
Local reports also appeared in Oman, regarding a PV project developer, Nafath Renewable Energy considering establishing a PV module assembly plant in the country, although no further information was provided.
The significant decline in new capacity expansion plans in the last two months follows a downward trend that started in May, 2016. The month of May, 2016 provides a key point in time for global PV manufacturing capacity expansion announcements as they revealed only 4.04GW of total new plans and a significant slowdown of over 58%, compared to the previous month.
The month of June confirmed a second consecutive month of announcement declines. The month had a total of 3.52GW of planned capacity expansions, around a 12% decline from the previous month.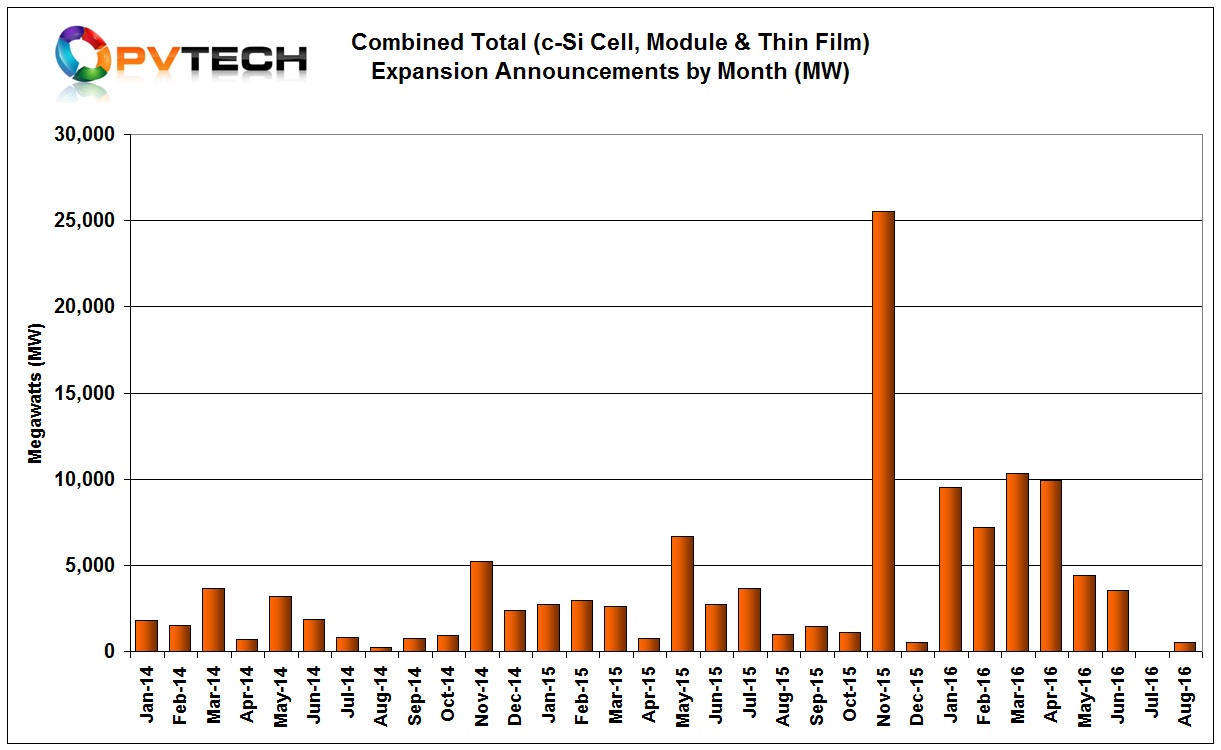 Record announcements in 1H 2016
PV Tech has recently completed a bottom-up analysis on preliminary monthly capacity expansion announcements for the first half of 2016. Unlike past periodical re-evaluations and checks, whereby only small updates to monthly and subsequent quarterly and half yearly analysis were required, preliminary monthly reports since February, 2016 have undergone major revisions, due to company specific updates and further supply chain checks through the period.
PV Tech's preliminary analysis of expansion announcements for April, 2016 indicated nearly 9GW of planned future expansions of thin-film modules, solar cells and module assembly production, up from over 7.3GW in the previous month and the third consecutive monthly increase. Preliminary, total planned expansions reached 8,935MW.
However, revised figures show that a further 1GW of announcements were made in April, bringing the combined total to 9,935MW.
Revised dedicated solar cell capacity expansions announcements reached 4.25GW in April, up from 3.75GW in preliminary findings. This was down compared to revised March figures, which reached 6.55GW, up significantly from preliminary figures of
3.1GW in March, 2016.
The increase in March figures were primarily due to updated information on expansions plans by provided by Risen Energy and Vina Solar in Vietnam.
The increase in April's figures was primarily driven by confirmations to PV Tech by new entrant, Mundra Solar PV Ltd, a new subsidiary of India-based Adani Enterprises.
Having initially sought manufacturing partnerships, including an integrated multi-gigawatt operation with SunEdison that included polysilicon to modules and on to downstream PV power plant development, Adani is currently establishing its own operations.
Revised dedicated module assembly capacity expansions announced in April reached 4,85GW, up from preliminary figures of 4.38GW. However, revised March figures of 4.88GW up from preliminary figures of 3.7GW, highlighted the intensity of planned expansions but were actually lower month-on-month.
With revised figures included for both the first quarter and second quarter of 2016, it is clear that total capacity expansions since the fourth quarter of 2015 have been significantly higher than at any period since the first quarter of 2014.
Total combined expansions in this nine month period have exceeded 74.5GW. In comparison, total expansions from the first quarter of 2014 through the third quarter of 2015 (21 months) only reached around 47GW.
The first quarter of 2016 has proved to be a new record high in total announcements, just topping 30GW, compared to just over 27GW in the fourth quarter of 2015.
The slowdown from these elevated heights is clearly seen in the total number of announcements made in the second quarter of 2016, which were around a 40% decline, quarter-on-quarter at 17.5GW.
The second quarter of 2016 included 900MW of thin-film planned expansions, 8.04GW of dedicated solar cell and 7.56GW of dedicated module assembly plans. Integrated PV manufacturing plans totalled 1GW in the quarter.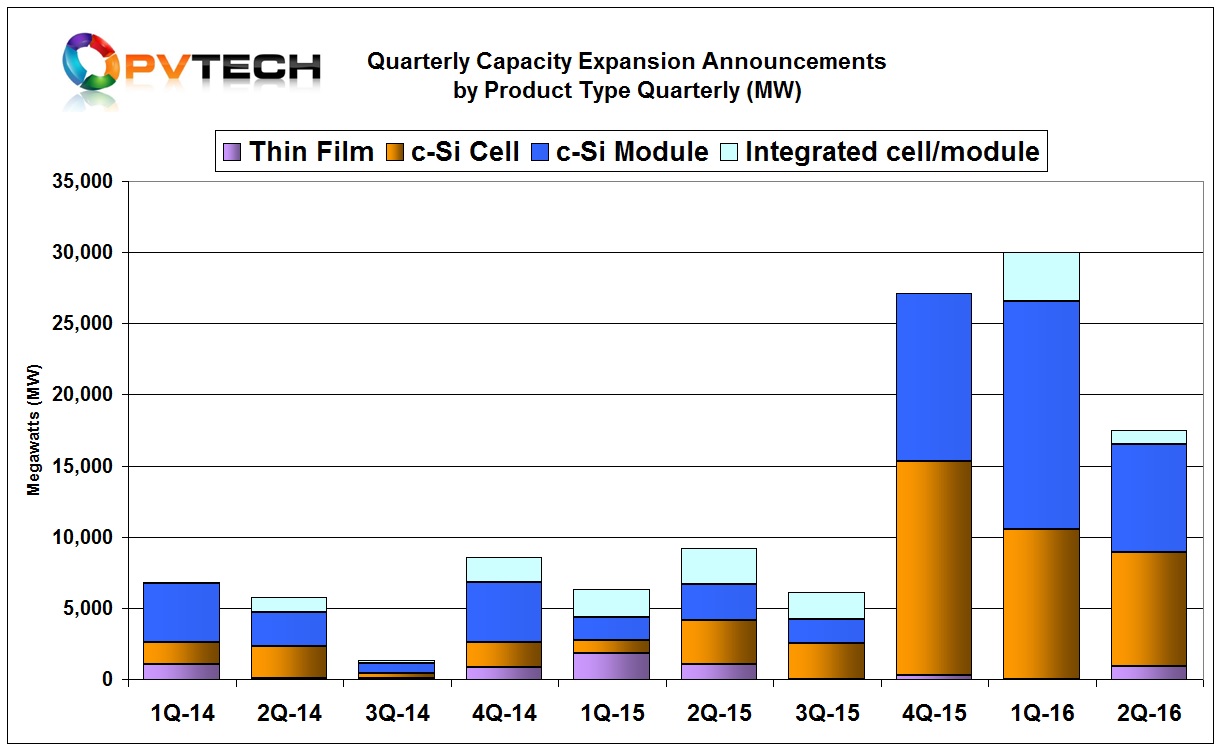 Geographical split 2Q 2016
In the first quarter of 2016, which revised figures highlight that China continued to lead new capacity announcements with a total of 8.87GW, in contrast the second quarter was led by India with 8.04GW of plans, while China attracted less than half the amount from the first quarter at 4.25GW.
Indeed, India was the destination for a total of 7.3GW of announcements in the first quarter of 2016, second only to China and almost the same amount (7.85GW) announced for the whole of 2015.
As already highlighted on a monthly basis, South East Asia proved to be a continued strong focal point for expansions, while specifically Taiwan was the third largest single destination (1.01GW) in the quarter, though down from 1.34GW in the previous quarter.
Total global PV manufacturing capacity expansion announcements in the first half of 2016 exceeded 47.53GW, almost as much (48.76GW) as the total for 2015.
This included 18.55GW of dedicated solar cell expansion plans and 23.58GW of module assembly expansion plans. A total of 4.5GW of integrates cell and module expansion plans were announced in the period, while 900MW of thin-film expansions were also planned.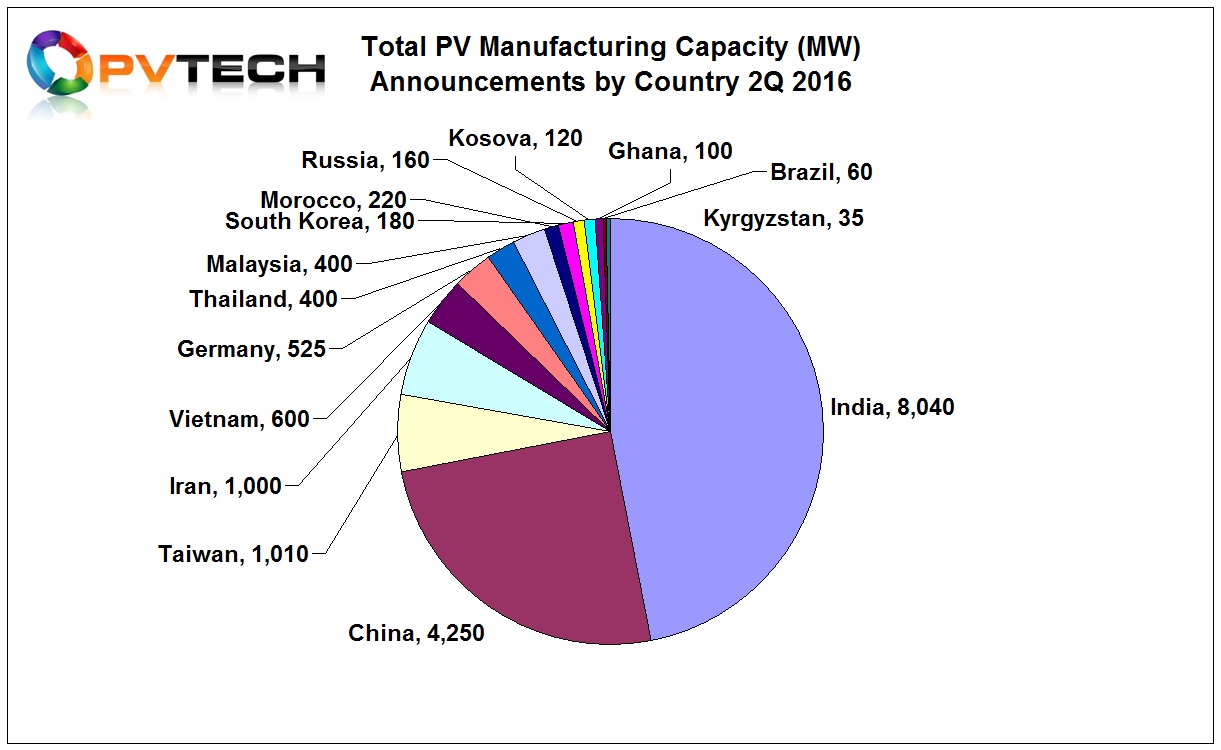 Geographical split 1H 2016
Perhaps the most surprising aspect of this period was that India surpassed China for announcements. India had 15.34GW of announcements in the first half of 2016, while China had a total of 13.12GW.
However, the period also reveals the attraction of Vietnam, primarily for China-based PV manufacturers in establishing OEM operations via two companies, Boviet Solar and Vina Solar.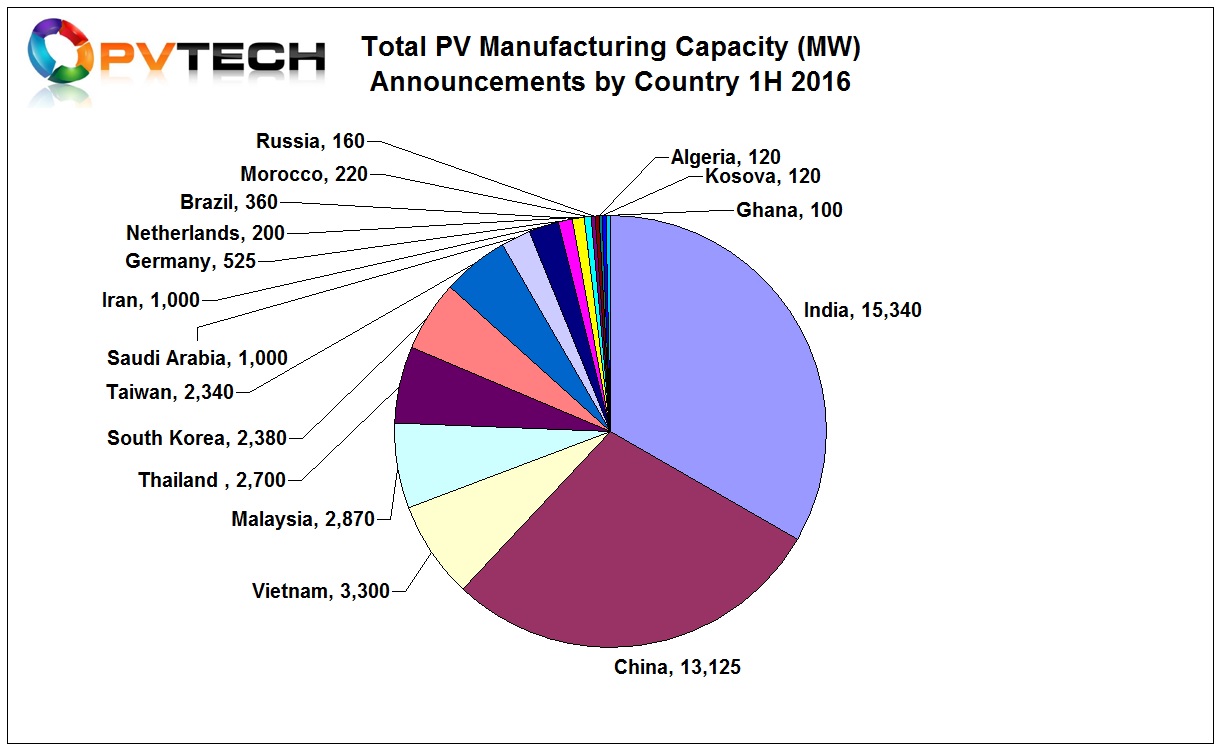 PV Tech will soon publish its latest analysis on updated 'effective' capacity expansions compared to announcements since the beginning of 2014. In an 'ideal' world the tracked announcements should all convert to effective nameplate capacity over a given period of time, providing a clear understanding of the current global PV manufacturing landscape.