PV capacity expansion announcements in November 2015 set several new major benchmarks as some of the big-six Silicon Module Super League (SMSL) members, as expected, announced further expansions to meet growing demand in 2016.
A total of 17.5GW of new capacity expansions were announced in November, across dedicated solar cell and dedicated module assembly. Notably, no integrated cell/module capacity expansions were announced in the month, primarily due to the dominance of announcements by SMSL members.
This is by far the highest figure set in the last two years, almost triple the benchmark capacity announcements set earlier this year in May of 6.78GW.
The number of companies announcing expansions totalled 14 in November, beating the previous benchmark of 11, set in May 2015. Interestingly, three SMSL members – Trina Solar, JinkoSolar and Hanwha Q CELLS – also participated in setting the May and November benchmark figures.
SMSL dominance
Overall five of the six SMSL members dominated capacity expansion announcements in November. Canadian Solar announced a total of over 4GW of expansions across ingot/wafer, dedicated solar cell and dedicated PV module assembly.
Expansions or new plants were announced in various regions, including Canada, China, Brazil, Indonesia and Vitenam, along with plans for a 400MW solar cell plant somewhere in Southeast Asia.
JA Solar kept things simpler on the geographical front announcing a total of 1.4GW of new solar cell capacity would be added in China and Malaysia, while a similar figure of dedicated module assembly would be added in China. Including 500MW of new ingot/wafer capacity in China, JA Solar announced a total of 3.3GW of new expansions in November.
JinkoSolar also announced a total of 1.8GW of expansions in the month, across ingot/wafer, dedicated solar cell and module assembly. However, the company has yet to decide the split of manufacturing between China and Malaysia.
This was similar to Hanwha Q CELLS, which announced module assembly expansions of 1GW, though location and capacity levels between China, South Korea and Malaysia were not disclosed.
Leading global PV manufacturer, Trina Solar announced a total of 2.8GW of new capacity in the month. Again, geographical locations were not forthcoming.
The SMSL members' total capacity expansion announcements totalled around 13GW alone in November, 2015.
Solar cell expansions
Dedicated solar cell capacity announcements in November, 2015 reached 6.2GW, significantly higher than the previous benchmark of 2.7GW set in May 2015.
However, including SunPower's re-announced IBC cell plant and further planned phases of solar cell capacity expansions over the next five years that were announced in November, the total for the month reaches an astonishing 13.1GW.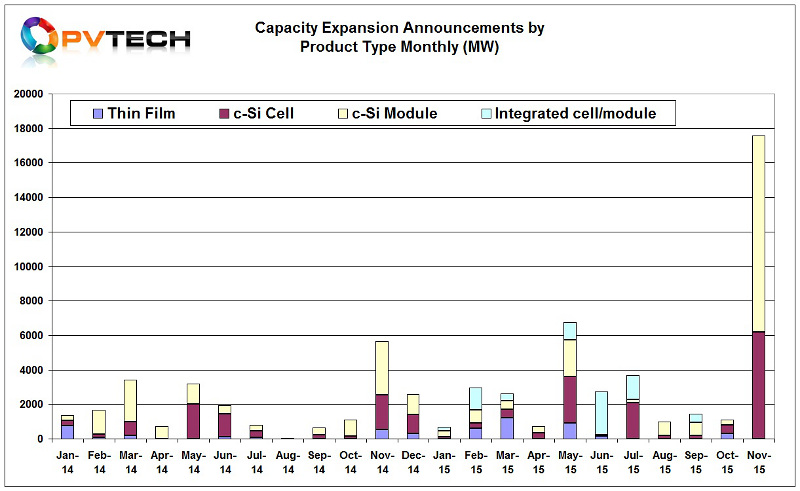 Module assembly expansions
Similar significant figures were announced for dedicated PV module assembly expansions, which totalled 11.38GW in November. The previous monthly benchmark for dedicated module assembly expansions was set in November 2014 at 3.11GW, while the integrated cell/module benchmark of 2.96GW was set in February, 2015.
Ingot/wafer expansions
Another interesting development was the announcements surrounding expansions of multi c-Si ingot and wafer production by several integrated PV manufacturers from the big-six SMSL players such as JA Solar, JinkoSolar, Canadian Solar and Trina Solar.
In total, 1.6GW of multi c-Si ingot/wafer expansions and upgrades were announced in November. Although a sign that outsourced wafer capacity maybe finally tightening it does not yet indicate that wafer supply is heading for major constraints.
The most notable expansion of silicon wafer production in 2015 was in relation to mono c-Si production by Longi Silicon Materials in July, with plans to add 3GW of production.
However, leading multi c-Si ingot/wafer producer GCL-Poly has yet to announce capacity expansion plans in 2015, after increasing capacity by 1GW to 14GW in 2014. The company is currently attempting to close on a major deal to sell its coal fired power station and steam generation businesses to raise major new funding for expansions in solar cell (JV with Canadian Solar) and ingot/wafer production.
Seismic shift rebalance
On a geographical basis, the seismic shift in new capacity expansions seen in the first half of 2015, when no new expansions were announced in China by any Chinese PV manufacturer, have started to rebalance, yet only primarily in the third quarter of the year.
Due to the unspecified locations for much of planned expansions, excluding Canadian Solar it is difficult at this time to put an accurate figure on the latest expansions planned in China.
However, at least 6.1GW is clearly earmarked in China from the announcements made in the month and bring the total for the year to date to 11.31GW.
Malaysia is also expected to be a key location for further expansions but yet again the lack of details at this time precludes an accurate figure. However, capacity expansions announced for Malaysia in the first nine months of 2015, total around 1.7GW.
Meaningful capacity caution
Despite the participation of both SMSL members and well established industry players such as SunPower announcing significant capacity expansions in the month, the devil once again is in the lack of details, notably timelines for some of the planned expansions.
As much as 2GW of Canadian Solar's mammoth 4GW plus expansion plans currently lack timelines and have no definitive location.
SunPower's planned IBC solar cell plant in South East Asia has been touted for several years, but at least the company has provided one new piece of information, which is that it is planned to start operating in 2019, with a nameplate capacity of only 800MW, exactly the same capacity as previously touted several years ago.
SunPower's planned 2GW of Cogenra Solar module technology capacity, using OEM solar cell outsourcing should be fully ramped by 2020. However, whether some or all of the module capacity is outsourced and located in multiple regions, remains unclear.
Planned expansions by China-based Tongwei Group of 5GW of solar cell capacity should be looked at in phases. The company has broken ground on a new facility with 1GW nameplate capacity with ambitions to expand to the 5GW target over a 3 to 5 year timeline.
Therefore, around half of the 17.5GW of planned capacity expansions announced in November do not meet the criteria to be included as meaningful capacity additions expected in the next 12 to 24 months at this time.