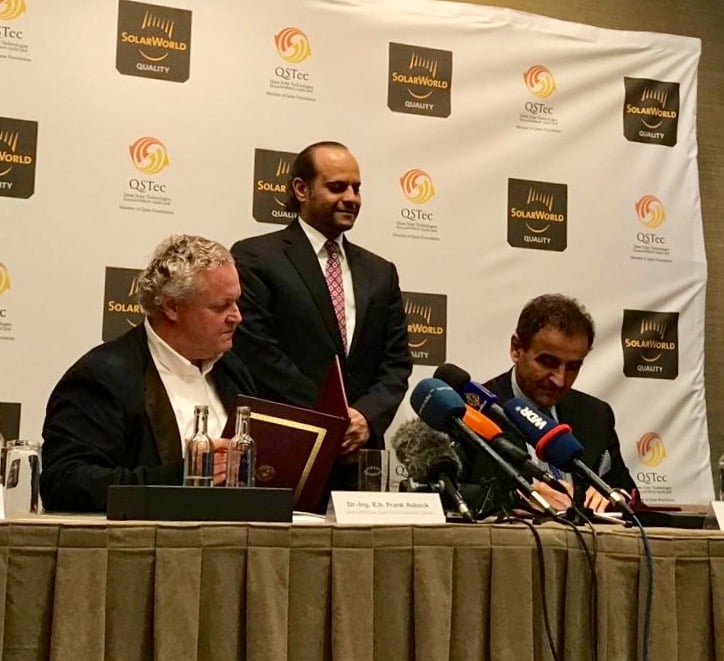 Qatar Solar Technologies (QSTec) has taken a 49% stake in SolarWorld Industries GmbH, the new entity that purchased SolarWorld AG's core manufacturing assets, according to reports in Qatar.
An official statement from QSTec did not publish the size of the stake but local reports citing comments at the press conference gave the 49% figure. At the time of writing, official company registery documents for SolarWorld Industries had not been updated since 9 August and listed Frank Asbeck and companies owned by the Asbeck family as the sole owners. QSTec also has an 8000MT polysilicon plant in Qatar and a 50% stake in Centrotherm.
"The opportunity to strengthen our relationship with SolarWorld Industries and continue the production of high quality solar technologies in Germany fully aligns with QSTec's vision of being a world leading integrated solar company," said Dr Khalid Klefeekh Al Hajri, chairman and CEO, QSTec.
"We have expanded QSTec's global reach, increased our research opportunities and gained larger access to solar technologies and markets that will be of great benefit to QSTec and our partners."
"We have the best products, the right partners and we share a common vision for the future of SolarWorld Industries, QSTec and the global solar industry," said SolarWorld Industries' founder, Dr Frank Asbeck. "The industry is expanding, new markets are opening up daily and together with QSTec, SolarWorld Industries will continue to manufacture modules of the highest German quality and standards," he continued.
QSTec had a 29% stake in SolarWorld AG following a re-structuring in 2013.