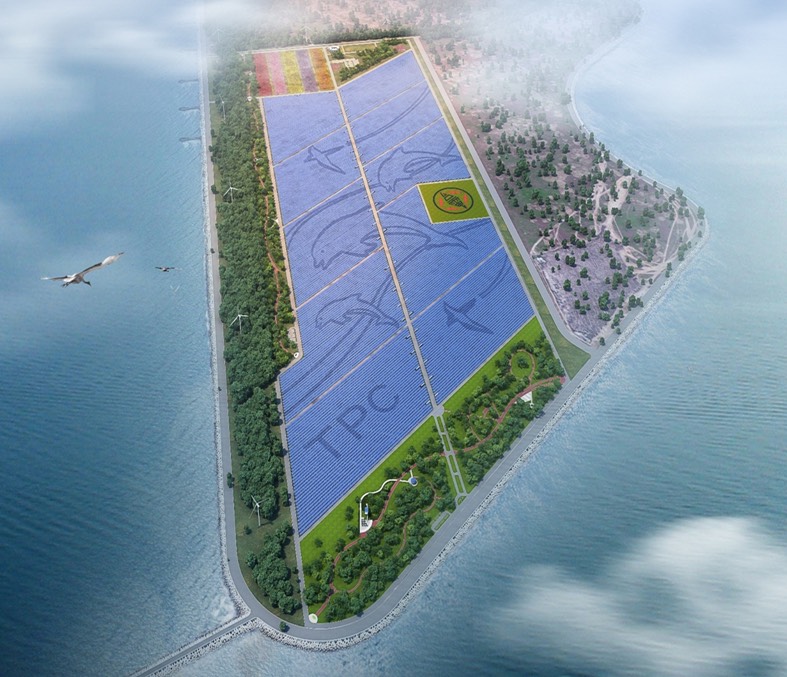 Taipower breaks ground on Taiwan's largest solar project
8 February: State-run utility Taiwan Power Co (Taipower) has held a ground-breaking ceremony for a 100MW solar power plant at Chuanghua Coastal Industrial Park, Changhua County.
The project is expected to cost around US$211m with 339,000 solar panels installed at the 150-hectare site. 10 hectares of the site is expected to be used for a grid connecting substation for an off-shore wind farm in the future.
The facility will generate 130 million kWh annually and power the equivalent of more than 30,000 households and is expected to start operations before the end of the year. It will be installed with images of Dolphins (see picture above).
Taipower aims to build 11.3MW of solar on its own buildings and will soon start work on a 150MW project at in Tainan.
Taipower awarded the contract to Chunghwa Telecom Co, which has undertaken more than 400 solar power projects nationwide. Last year, Taipower delayed plans to commission 500MW of solar by 2020 by two years.
Belectric enters Dutch PV market with 14MW project completion
8 February: Belectric has built a 14MW solar project located in Emmen, in the province of Drenthe, on behalf of Statkraft.
Belectric provided EPC services and will carry out O&M as well as remote power plant monitoring, regular inspections and on-site support in the event of a fault. The Dutch PV power plant 'Zonnepark Lange Runde' was officially inaugurated this week.
"Statkraft is proud to officially inaugurate its first solar PV park in the Netherlands. We are pleased with the good cooperation we have had with Belectric", said Niels van der Linden, head of Statkraft's Dutch solar team.
The park covers a 17-hectare plot of land and consists of more than 118,000 solar panels. This is the first project in the Benelux region to use Belectric's 1,500V. The firm is building another 12MW PV power plant for a customer in the Netherlands this year. Belectric recently won the engineering, procurement and construction (EPC) contract for a 120MW project in Israel.
EBRD finances phase one of 72MW Ukraine solar project
8 February: The European Bank for Reconstruction and Development (EBRD) is supporting a new 36MW solar plant in Lviv, western Ukraine, in collaboration with the Clean Technology Fund.
The EBRD will provide a 10-year loan of €17.3 million while the CTF will extend an 11-year loan of €6.9 million to Energopark Yavoriv LLC, a special company set up for the construction of the plant and majority-owned by the entrepreneur Zinoviy Kozytskiy.
The 36MW solar plant is the first stage of a project which is expected to double to 72MW at its final stage. The solar plant will be built on the site of a former chemical plant near the village of Ternovytsa in the Yavoriv district of Lviv region.
Last month, TIU Canada officially commissioned a 10.7MW PV project in Nikopol, Ukraine.