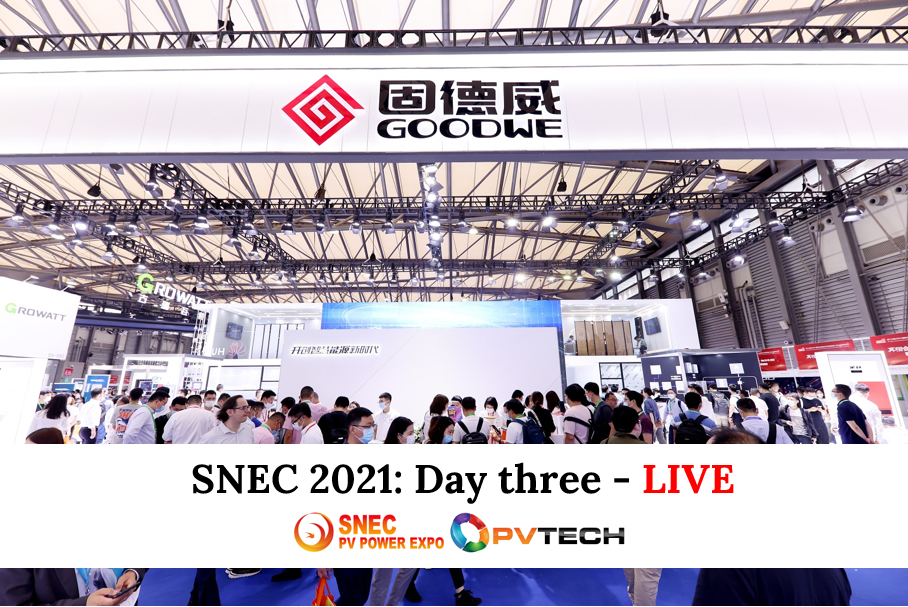 Welcome back to PV Tech's live coverage of SNEC PV Power Expo 2021, on this third and final day of the exhibition.
We're continuing to document all of the products, demonstrations and insight from the show floor today, building on our live blogs from days one and two.
This story will be updated throughout the day, so be sure to check in regularly as PV Tech provides you live coverage from the second day of the show.
---
23:30 CST / 16:30 BST / 11:30 ET – That's a wrap!
After three days of excellent, insightful and thought provoking content, SNEC 2021 has closed its doors! As you can see from all three of our daily live blogs, the solar industry has excelled itself once again with a demonstration of the scale the industry has grown to and the technological expertise it has.
Below is a list of each video interview we have conducted this week, including links to the videos on both YouTube and YouKu for our readers in mainland China (some YouKu links to follow). We'll be taking stock of everything we've learned from the show floor this week for analysis to be published next week, and we also have some bonus video interviews to share.
Thank you for reading, and we hope you've found our coverage of SNEC 2021 enjoyable.
23:00 CST / 16:00 BST / 11:00 ET – Insuring against price spikes
Soaring material costs are plaguing the solar industry, sending production costs soaring and significantly denting product margins. Leo Xiang, general manager of Jiang Tai Insurance Brokers' energy department, spoke to PV Tech about how module manufacturers can offset the risk of price increases.
22:30 CST / 15:30 BST / 10:30 ET – LONGi aims big
Having wrestled the lead from JinkoSolar to become the world's largest module manufacturer by shipments, LONGi is now aiming even bigger. The company has well documented expansion plans and the vertically-integrated maker of cells and modules is targeting growth on multiple fronts. Dennis She, senior vice president at LONGi Solar, gave PV Tech the inside track on the firm's strategy moving forward.
LONGi used the exhibition to launch its first n-type module, the Hi-MO N, which comes hot on the tails of the company continuing to push the boundaries of cell efficiency. The Hi-MO N took centre stage at LONGi's booth, as you can see below.
22:00 CST / 15:00 BST / 10:00 ET – N-type the way forward
One of the big themes at SNEC 2021 has been the emergence of n-type products for the mass market, and Jolywood has long been a champion of the technology. We visited Jolywood's booth and spoke to Zhifeng Liu, the company's vice president, who explained why now n-type is no longer just the technology of tomorrow.
Some of Jolywood's n-type products can be found on the company's booth.
L-R: An n-type cell produced by Jolywood, Zhifeng Liu speaks to PV Tech, Jolywood's 700W Niwa Max module, and the company's booth at SNEC 2021.
21:30 CST / 14:30 BST / 09:30 ET – Smart solar, smart grid?
Leading technology company Huawei has for a long time leveraged its expertise in other sectors such as telecoms to boost its solar product, and at SNEC this year the company is demonstrating some of its work on developing products for the zero carbon cities of tomorrow.
We spoke exclusively to Guoguang Chen, president of Huawei Smart PV and COO of Huawei Digital Power, about the company's vision for the power sector of the future.
21:00 CST / 14:00 BST / 09:00 ET – Can the industry be united by R&D?
Research and development is one thing most solar manufacturers have in common, and Trina Solar is very much of the opinion that the industry can unite behind advancements which can benefit all. Franck Zhang, head of global product strategy and marketing at Trina Solar, spoke to PV Tech on the show floor earlier to detail how Trina believes some of the advancements Trina pursued for its Vertex line of modules could benefit the entire industry.
Trina exhibited its Vertex series, including the latest 670W variant.
20:00 CST / 13:00 BST / 08:00 ET – It's all about the cell
There has been considerable debate in the industry about cell-level technologies in the past year, not least the discussion about which size is best, 182mm or 210mm. One thing's for sure, demand for solar cells is set to continue soaring, placing huge emphasis on the industry's cell providers to cater for the industry's needs. One such company intent on doing so is Aiko Solar, who spoke to PV Tech about the company's huge expansion plans.
L-R: Vincent Lau, overseas senior sales director at Aiko Solar, speaks to PV Tech about the company's ambitious expansion plans, while the company's booth attracts attention on the show floor.
19:30 CST / 12:30 BST / 07:30 ET – Trackers under the spotlight
Increases in the price of polysilicon have stolen headlines, however steel costs have also soared which has led to some concern among mounting firms, and in particular trackers which use more of the metal. Nevertheless, they remain a core element of the solar deployment industry. We spoke to Arctech about the launch of its new 2P tracker system at SNEC 2021.
Arctech products on display at SNEC 2021 earlier this year. Image: PV Tech.
L-R Arctech's tracker solutions on display, including other mounting structures aimed at markets like BIPV. Guy Rong, president of global business at Arctech, speaks to PV Tech.
19:00 CST / 12:00 BST / 07:00 ET – Taking floating solar to the next level with modular mounts
Next up is a trip to Mibet Energy's booth, where the mounting system provider is exhibiting a range of products, including a modular floating solar system which professes to help deploy FPV in an entirely scalable fashion.
Mibet Energy CEO Henry Chen speaks to PV Tech at the company's booth at SNEC 2021.
18:00 CST / 11:00 BST / 06:00 ET – Inside Sunport Power's advanced metal wrap through technology
Time to visit Sunport Power's booth, a manufacturer exhibiting its classic series of modules, amongst other products, aimed at the utility-scale market.
L-R: Sunport's S-Flex 6 flexible solar module, with an output of 380W, Sunport's Classic series modules, in outputs of 660W and 590W, Sunport Power's booth.
We also spoke to professor Martin Green, chief scientist at Sunport Power, explains how the company has spent the last two years enhancing its advanced metal wrap through (MWT) technology to enhance efficiency.
17:45 CST / 10:45 BST / 05:45 ET – On the back of new records, JinkoSolar aims higher
Earlier this month JinkoSolar claimed a new efficiency record for a n-type TOPCon cell, taking its efficiency to 25.25%. But the company is not resting on its laurels. Xinyu Zhang, R&D director, explains how newly introduced technologies can take the company's TOPCon performance even higher.
L-R: Leo Yu, global senior product manager at JinkoSolar, details the range of modules that Jinko is exhibiting at SNEC this year, while Xinyu Zhang, R&D director, speaks to PV Tech about the company's recent TOPCon cell efficiency record. Jinko's Tiger Pro series on display.
17:30 CST / 10:30 BST / 05:30 ET – How are backsheets evolving?
Given the nature of the exhibition and how dominant solar modules are amongst the stands, it can perhaps be easy to forget how much technology and R&D goes into components you don't always see, such as backsheets. Here, Mark Wu, chairman of Cybrid Technologies, discusses the company's leading position in backsheets and its launch of encapsulants to become a one-stop-shop for PV materials.
L-R Cybrid exhibiting its range of backsheet and other materials solutions at this year's SNEC. Mark Wu, chairman of Cybrid Technologies, talks to PV Tech. Cybrid's stand at SNEC 2021.
17:00 CST / 10:00 BST / 05:00 ET – Renewables bolstering Kehua Tech strategy
Kehua Tech, a power equipment manufacturer founded in 1988, has placed significant importance on the company's renewables division as part of a wider diversified product strategy. Qianqian Ma, strategic marketing manager at Kehua Tech, explains the strategic importance of renewables and walks us through the company's product selection this year.
L-R: Visitors explore Kehua Tech's booth at SNEC 2021. Qianqian Ma, strategic marketing manager at Kehua Tech, speaks to PV Tech. Kehua Tech's range of smart inverters on display.
16:15 CST / 09:15 BST / 04:15 ET – Chint/Astronergy adds to high power bonanza
L-R: Chint's booth attracts visitors prior to the company celebrating its Astronergy Astro 6 product receiving TUV Rheineland certification. CTO Alex Hsu speaks to PV Tech, and the Chint/Astronergy team stands in front of the 670W Astro 6 product. All images copyright PV Tech.
16:00 CST / 09:00 BST / 04:00 ET – High power modules dominating the show floor
The exhibition closes today, so it's perhaps time to start considering our key takeaways from the show. Alex Hsu, CTO at Chint Solar/Astronergy, says SNEC 2021 has been typified by the number of high power modules on display, indicating the industry's progression.
15:00 CST / 08:00 BST / 03:00 ET – Helping homes on the road to zero carbon
National net zero targets have been established by the world's largest economies, including China, and removing emissions from the built environment, especially homes, is critical to those targets. Sungrow's product range at SNEC 2021 includes domestic inverters and solutions aimed at helping that progress.
14:45 CST / 07:45 BST / 02:45 ET – On the subject of inverters…
We also stopped by Sungrow's booth yesterday, having spoken to the inverter giant on the opening day about its floating solar division. Yesterday, we discussed the company's core inverter line up.
Sungrow's inverter line up at SNEC, which features products for solar PV installations of all shapes and sizes. All images copyright PV Tech.
14:30 CST / 07:30 BST / 02:30 ET – Tailored solutions for an international inverter market
Apollo Chai, international marketing director, speaks to PV Tech about how Goodwe is tailoring its inverter products for international markets.
14:15 CST / 07:15 BST / 02:15 ET – Goodwe's inverter range garnering attention
We stopped by Goodwe's booth yesterday to see what the inverter supplier was exhibiting
L-R: Goodwe's utility-scale inverters on display at SNEC 2021. The Goodwe team welcoming PV Tech to the company's booth, which attracts visitors on day two of the exhibition. Apollo Chai, international marketing director at Goodwe, speaks to PV Tech. All images copyright PV Tech.
14:00 CST / 07:00 BST / 02:00 ET – Tongwei kickstarts day three
We start today's proceedings with a visit to Tongwei's booth. Zhengxin Liu, director of Tongwei Solar's research institute of PV, talks us through the high efficiency cells on display at this year's exhibition
Tongwei exhibiting at last year's SNEC exhibition in China. Image: PV Tech.
L-R: Large-format modules are everywhere at SNEC 2021, and Tongwei's booth is no exception as the company displays a 705W PV module Tongwei's booth attracts attention, and Tongwei's Zhengxin Liu speaks to PV Tech. All images copyright PV Tech.