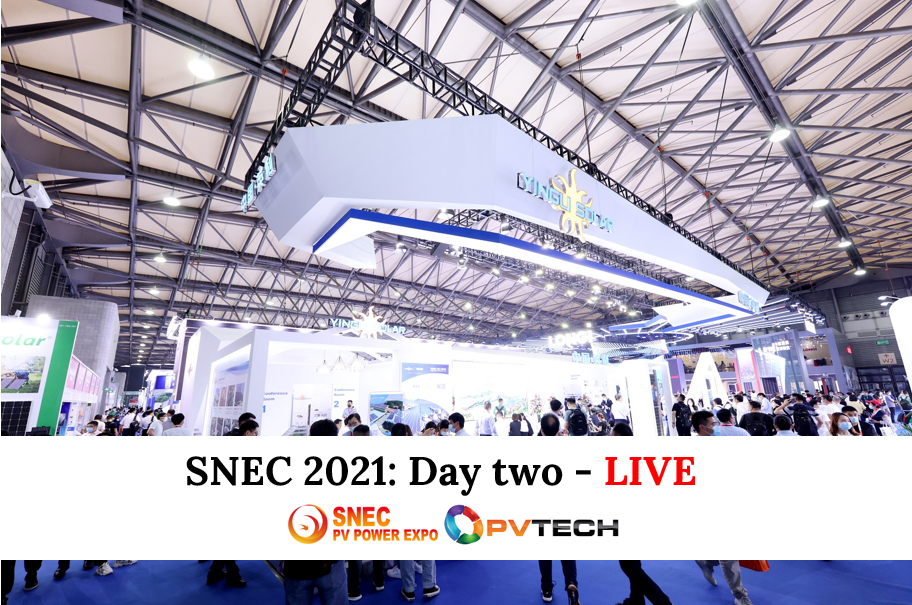 Hello and welcome back to PV Tech's live coverage of SNEC PV Power Expo 2021, where we'll be taking you through all the sights and sounds of the exhibition's second day.
Yesterday was packed full of new product launches, insight into technology trends and indeed discussion around the broader health of the industry. Our coverage from day one, which includes interviews with the likes of Yingli, Sungrow and Growatt, can be found here.
This story will be updated throughout the day, so be sure to check in regularly as PV Tech provides you live coverage from the second day of the show.
---
23:05 CST / 16:05 BST / 11:05 ET – JA Solar: Capacity expansions to consolidate position amongst industry's leading players
In an exclusive interview, Xinming Huang, senior vice president at JA Solar, said the 'Solar Module Super League' (SMSL) member was backing capacity expansions to help consolidate its position in the market. JA Solar has revealed huge capacity expansion plans this year, adding tens of gigawatts of output across solar wafers, cells and modules.
We also speak to Andrew Zhang, technical sales manager at JA Solar, who provides a deep dive into the workings of the company's latest release, the Deep Blue 3.0 series of modules. The Mono PERC 78 half-cell module uses 182mm cells and gapless encapsulating technology, with conversion efficiencies of up to 21.6%.
22:50 CST / 15:50 BST / 10:50 ET – JA Solar launches Deep Blue 3.0
JA Solar has been busy at SNEC 2021, launching its latest Deep Blue 3.0 modules for the market. Pictures from our visit to the JA Solar booth are below, and you can look forward to an exclusive interview with senior VP Xinming Huang shortly.
L-R: JA Solar senior VP Xinming Huang speaks exclusively to PV Tech. Visitors at the company's booth. The 72-cell and 78-cell versions of JA's new Deep Blue 3.0 modules, which attract admirers on the show floor. All images copyright PV Tech.
22:40 CST / 15:40 BST / 10:40 ET – Risen on the rise of large-format modules
Yifeng Song, product management director at Risen Energy, explains how Risen has been one of the early champions of the 210mm cell, utilising it in all of its modules for utility-scale solar solutions on the show floor this week. Song notes the surge in prominence of ultra-high power output modules on the show floor this year, demonstrating that these large-format modules are now the main product of the market.
22:30 CST / 15:30 BST / 10:30 ET – N-type modules dominating the show floor at SNEC 2021
On the subject of n-type products, the emerging theme this year is very much that n-type is moving from the industry perennial 'technology of the future' and becoming very much the technology of today. N-type products are everywhere on exhibition stands, and it's no different at Risen, which has its own n-type products on display.
L-R: Leon Chuang, global marketing director at Risen Energy, takes us through Risen's products this year, while attendees enquire at the show booth. Chuang and Yifeng Song, product management director at Risen Energy, speak to PV Tech's Carrie Xiao. The booth continues to attract delegates on day two of this year's show. All images copyright PV Tech.
22:00 CST / 15:00 BST / 10:00 ET – LONGi launches Hi-MO N n-type module
We'll be hearing from LONGi a little more later, however news from the main site on PV Tech as we hear about the module manufacturer's launch of its maiden n-type module, the Hi-MO N. More detail on the product and its launch can be read here.
20:00 CST / 13:00 BST / 08:00 ET – Solar & Storage Finance Asia
A quick reminder that our publisher Solar Media is hosting the Solar & Storage Finance Asia event next month, bringing together financiers and developers to further the solar and storage sectors across the continent. More details on the event, and an exclusive discount, can be found by clicking on the flier below.
19:15 CST / 12:15 BST / 07:15 ET – 700W, 9 busbar heterojunction modules on display
L-R: Akcome's mounting structure unit demonstrating its structures this week. The company's Elvis Feng and Michael Xiao speaking to PV Tech's Lili Zhu. Visitors at Akcome's booth. New products on display at Akcome's booth, including a 700W heterojunction module featuring 9 busbar design.
19:00 CST / 12:00 BST / 07:00 ET – Akcome aims for heterojunction lead as aluminium costs shifts demand for sleeker designs
Having started out originally as a manufacturer of solar accessories, Akcome has developed to become a multi-faceted manufacturer of frames, trackers and modules themselves, taking a position at the forefront of heterojunction cells and modules.
The cost of materials is a consistent topic of discussion at this year's SNEC, so we caught up with Elvis Feng, sales director at Jiangyin Metal, to who explained how the cost of aluminium and other raw materials has impacted on customer demand for frames of reduced weight.
We also speak to Tony Hu, vice general manager of Akcome's sales department, who runs through the modules on offer at this year's SNEC, including its range of heterojunction modules.
Lastly, Michael Xiao, general manager at Suzhou Metal, which focuses on tracker sales, demonstrates the company's solar tracker solutions.
17:30 CST / 10:30 BST / 05:30 ET – Ginlong exhibiting high-power inverter products
L-R: Ginlong Solis welcoming visitors to its booth, exhibiting, amongst other products, the G6-GU320K-EHV string inverter, pictured bottom left. All images copyright PV Tech.
17:00 CST / 10:00 BST / 05:00 ET – Ginlong (Solis) developing inverters with 210mm modules in mind
Jiduo Li, global technical support director at Ginlong Technologies (Solis), talks us through how its inverter products are aligned with industry trends for large-format modules, and introduces its hybrid inverter product designed specifically for the home solar-storage market.
15:40 CST / 08:40 BST / 03:40 ET – Haitai Solar's booth tour
L-R: Dianna Tao, vice president at Haitai Solar, speaks to PV Tech about the company's history in PV. while Jiwei Li, vice president for technology at Haitai Solar, gives us a rundown of the products on display this year. Dianna and Jiwei speaking to PV Tech's Carrie Xiao, and exhibitors visiting the company's booth. All images copyright PV Tech.
15:30 CST / 08:30 BST / 03:30 ET – Haitai Solar's large-format modules and innovative backsheets
Dianna Tao, vice president at Haitai Solar, speaks about the company's longstanding collaboration with Sharp Solar, while Jiwei Li, vice president for technology at Haitai Solar, demonstrate the company's new products this year, including a large-format, half-cut cell 670W module featuring 21.57% efficiency and an innovative backsheet designed to bolster performance.
14:00 CST / 07:00 BST / 02:00 ET – Antai Solar discusses the importance of accommodating large-format modules
As the industry grows larger, so too does its modules. And in turn, mounting and tracker systems must also grow in order to accommodate for panels which are larger and heavier than ever before. Lloyd Li, vice president at Antai Solar, spoke to PV Tech yesterday to reveal the thinking behind the racking provider's new 'Space' product.
For our readers in mainland China, the below video can also be viewed on YouKu here.
13:30 CST / 06:30 BST / 01:30 ET – Inside racking
Yesterday we also visited solar racking provider Antai Solar, which services the industry from four manufacturing bases in Indonesia and China. Yesterday Antai introduced its new product, a 1P tracker solution dubbed 'Space' which has can be extended to support up to five strings, and has been tailored specifically to accommodate large-format modules.
L – R: Antai's new 'Space' tracker system attracting visitors. Lloyd Li, vice president at Antai Solar, speaking to PV Tech. Other visitors examine Antai's mounting systems. Antai's booth from the show floor. All images copyright PV Tech.
13:00 CST / 06:00 BST / 01:00 ET – Welcome back!
Good afternoon, good morning and good evening wherever you are, and welcome to our live coverage of SNEC 2021 day two. As per yesterday, we've an exciting day lined up and we'll be speaking to some of the upstream solar industry's leading players over the course of today.
If you missed yesterday's live blog, where have you been? You can catch up with all of our coverage from the exhibition so far by following our day one blog, here.