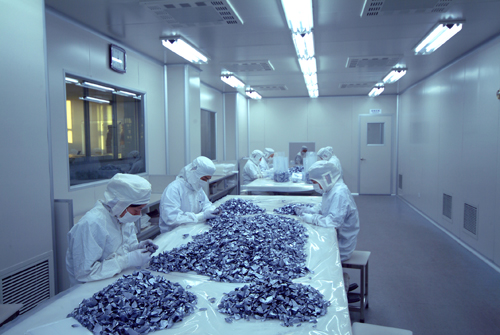 Integrated China-based monocrystalline PV producer, Solargiga Energy Holdings as expected from preliminary announcements, reported only a small increase in revenue for 2015, however the company returned to a small net profit, compared to a net loss in 2014.
Solargiga reported total revenue of RMB 2,899.550 million (US$445.5 million) up from around US$440.2 million in 2014.
Production efficiencies (migration to diamond wire technology) and centralisation of production supported improvements in EBITDA and net profit, which were reported as RMB 344.806 million (US$52.9 million), an improvement of 33.5% from RMB 258.244 million in 2014 and RMB15.653 million (US$2.4 million), respectively.
However, gross margins were 8.4%, down from 12.7% in 2014, impacted by higher monocrystalline cell purchase prices, due to the lag between the times of purchase and production, according to the company.
Total external shipment volume grew by 13.2% to 1,151.0MW in 2015.
Sales
Overseas product sales remain dominated by customers in Japan. Sales totalled US$272.8 million to Japan, down from US$331.1 million, around an 18% year-on-year reduction. During the year, the external shipment volume of N-type silicon ingots was approximately 56.2MW, primarily to Japan.
Other key sales countries in 2015 included Taiwan that totalled US$14.1 million, Thailand, US$11.3 million and South Korea US$3 million. Domestic sales totalled US$140 million.
The company sold 100MW of monocrystalline solar cells in 2015, down 9% from 2014, mainly due to a higher portion of solar cells being reserved for the production of modules within the company.
Overall external PV module sales in 2015 reached 615.5MW, up 18.7% from 518.4MW in 2014. Two key customers included long-standing Sharp Corporation and State Power Investment Corporation (SPIC), formerly China Power Investment Group (CPI).
Production
Solargiga said it had 1.2GW of monocrystalline ingot production capacity at the end of 2015, 900MW of wafer capacity, 330MW of solar cell and 600W of module production capacities.
Capex was only US$9.2 million in 2015, compared to US$13.2 million in the previous year.
However, last year Solargiga teamed with Motech Industries on an existing module assembly plant in China. An initial 400MW capacity was said to have reached full production March 2016 with a further 200MW coming on stream in April, taking total module capacity to 1.2GW.