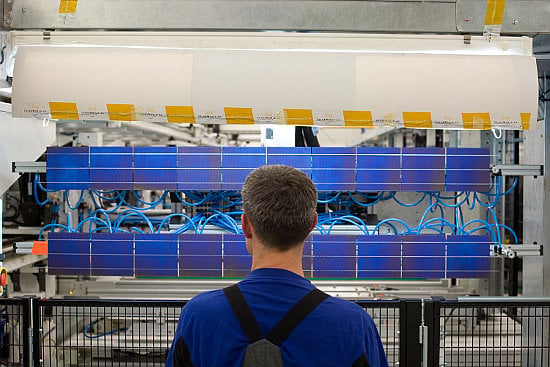 Key manufacturing and R&D assets of bankrupt German integrated PV module manufacturer SolarWorld AG have been acquired by its former founder and chairman, Dr. Ing. Eh Frank Asbeck.
Last week, the Management Board of SolarWorld AG including Philipp Koecke, Frank Henn, Colette Rückert-Hennen and Jürgen Stein had resigned their positions at the company as part of final insolvency proceedings starting on August 1, 2017. However, as PV Tech had highlighted SolarWorld AG's founder and chairman, Asbeck was not stated to have resigned his positions at the company.
Instead, Asbeck had created a new company, SolarWorld Industries GmbH ahead of the final insolvency proceedings.
According to the insolvency administrator, Horst Piepenburg, Asbeck's SolarWorld Industries GmbH has signed today a purchase and transfer agreement related to SolarWorld AG, SolarWorld Industries Sachsen GmbH, SolarWorld Innovations GmbH as well as SolarWorld Industries Thüringen GmbH. The agreement is subject to various conditions precedents needing to be met, according to Horst Piepenburg.
Financial details were not disclosed but the purchase and transfer agreement was said to be related to "almost all property, plant and equipment and all inventories and intangible assets of the aforementioned companies, as well as certain receivables from the aforementioned subsidiaries and the SolarWorld AG's ownership interest in SolarWorld Africa (Pty) Ltd., in SolarWorld Asia Pacific PTE Ltd., in SolarWorld France S.A.S. and in SolarWorld Japan KK."
However, the insolvency administrator noted that the purchase price mainly consisted in unspecified "repayment of liabilities that are secured by the creditor's protection rights."
PV Tech previously noted that a deal to save SolarWorld AG's main manufacturing operations has been claimed in media reports to include the Qatar Foundation, a major investor in SolarWorld AG through Qatar Solar as well as the involvement of Eicke R. Weber, former Fraunhofer ISE Director with other potential investors, believed to be located in Germany.
It remains unclear whether Asbeck used his own funds or collaborated with other potential investors to purchase key assets through the insolvency proceedings. Asbeck's SolarWorld Industries GmbH has a single registered shareholder.
Throughout the relatively short period between SolarWorld AG filing for bankruptcy and a buyer found, the specific circumstances behind the bankruptcy filing have not been publically disclosed. SolarWorld AG had entered insolvency proceedings with cash and cash equivalents of over €80 million.
However, the latest reports still claim that Asbeck was supported in the purchase by the Qatar Foundation, although details were lacking in the report.