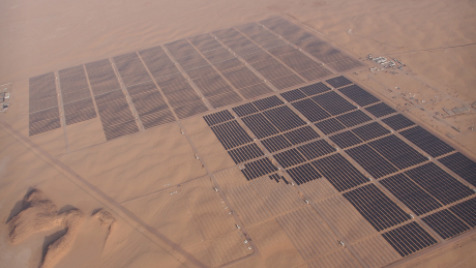 A joint venture between Enviromena Power Systems and Spanish firm TSK has commissioned a 105MW solar PV project in Jordan, having received financing from the Abu Dhabi Fund for Development (ADFD).
The Quweira Solar Power Plant, the largest in Jordan to date, cost AED550 million (US$150 million). The project, located in the southern part of Jordan, was inaugurated by Hani Fawzi Al-Mulki, prime minister of Jordan.
Mohammed Saif Al Suwaidi, director general of ADFD, said: "ADFD's involvement in the Quweira Solar Power Plant project is in line with its active assistance to the Kingdom of Jordan with which the UAE enjoys time-tested bilateral ties. Through financing several major development projects in Jordan, the Fund has ensured a positive impact on the lives of thousands of Jordanians and helped Jordan's government to fulfil its socio-economic plans and development goals.
"In line with its focus on inclusive social and economic development across developing countries, ADFD has prioritised renewable energy as a catalyst for growth, enabling the provision of clean, reliable and affordable power that boosts incomes and enhances energy security."
The project involved the installation of 328,320 JinkoSolar modules that are expected to produce 227GWh of solar power annually over a period of 20 years, enough to illuminate about 50,000 homes. Furthermore, the project contributed to the creation of about 1,000 jobs during the construction phase and is set to provide 30 permanent jobs for its operation and maintenance.
The Quweira plant uses a mix of tracking, that follows the sun from east to west, and fixed structures to maximize energy production during the seasons and optimize land usage. Ideematec supplied the fixed and tracker structures and Ingeteam the inverter stations.
The Jordanian government is targeting generating 20% of energy from renewables by early-2020.
In January, the IFC arranged a financing package of up to US$188 million for what will soon become Jordan's largest PV plant, a 200MWac / 248MWdc project developed by Masdar Abu Dhabi Future Energy Company.