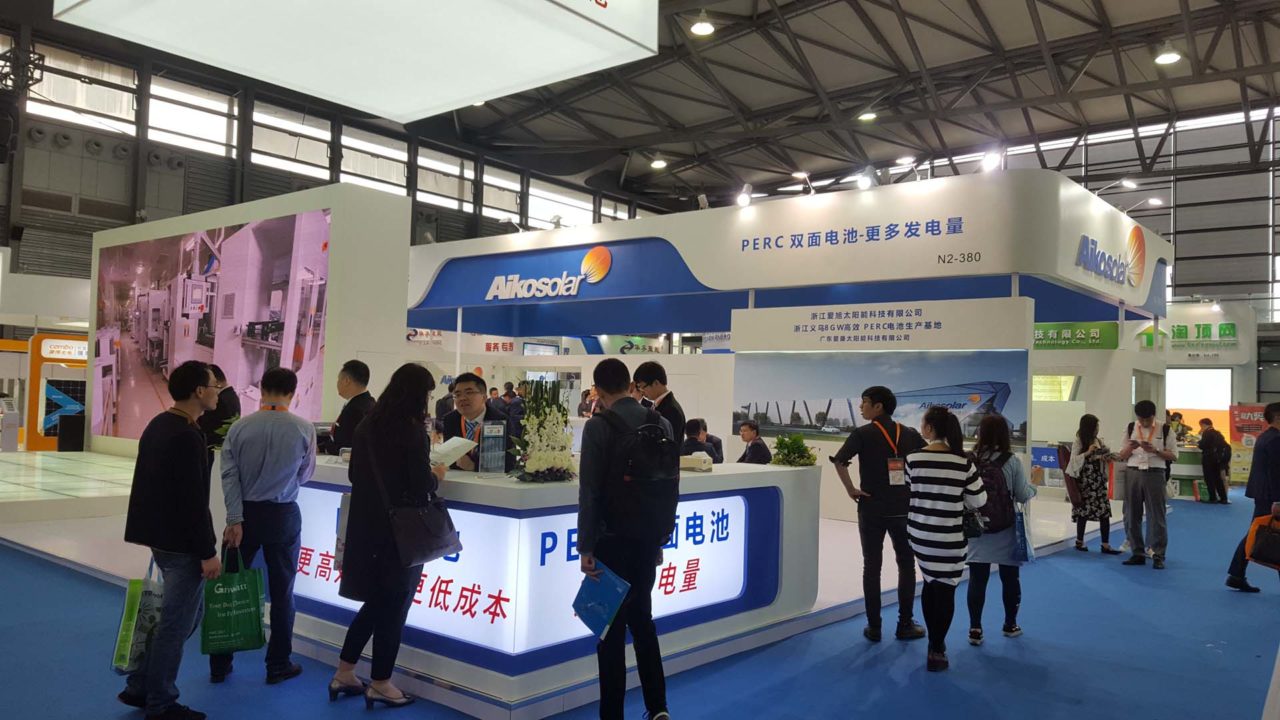 The vast number of announcements related to P-type mono PERC (Passivated Emitter Rear Cell) production in the last 18 months have primarily related to integrated cell and module producers shifting in-house production to the high-efficiency cells, as conventional multicrystalline Al-BSF (Aluminium-Back Surface Field) solar cells reach efficiency limitations.
However, although some merchant solar cell producers have announced migration to PERC, these have been relatively conservative manufacturing capacity changes, which can include both multi and mono PERC cells. In other cases, some are migrating away from multi to mono PERC and even a sprinkling of IBC (Interdigitated Back Contact) and heterojunction (HJ).
However, China-based merchant solar cell producer Guangdong Aiko Solar Energy Technology Co., Ltd (Aiko Solar) plans to be a major supplier of high-efficiency P-type mono PERC and bifacial cells to PV module manufacturers around the world, after announcing major capacity expansion plans and the introduction of new products.
Aiko Solar's 8GW mono PERC solar cell capacity commitment, which was announced at SNEC 2017, was not something you could really miss as it was announced atop its booth.
The planned expansion by Aiko Solar is evidence of a wider shift to mono over multi for module manufacturers, which PV Tech recently highlighted in a blog from Finlay Colville, head of market intelligence at Solar Media.
Aiko Solar told PV Tech at SNEC that its new greenfield production plant broke ground ahead of the show and equipment orders were signed with a number of western suppliers on the morning of the first day of SNEC 2017, at the Aiko booth.
"We think the market is good and offers a huge potential for mono PERC in the future and is the key development trend over the next three to five years – even the next ten years," remarked Vincent Lau, overseas sales director for Aiko Solar. "So we are ready to invest focused on this expansion." The total investment will be RMB6 billion, divided into three phases of RMB2 billion each.
That equates to a total investment of around US$870 million and around US$290 million per phase.
"The first phase will be completed near the end of the year, in the fourth quarter of 2017. This will provide an available capacity of 650-700MW and will be mono PERC," added Lau.
The initial Phase 1 plan of what will be an 8GW expansion is to be installed in a new manufacturing facility in an economic development area near Yiwu City, central Zhejiang province.
"The target is for all three phases to be completed by 2022," noted Lau.
The merchant cell producer is also planning to convert its current 1.6GW of nameplate cell capacity in Foshan City, Guangdong province, to P-type mono PERC in 2017.
Part of the confidence exuded by Aiko Solar in its mono PERC push comes from partnering with leading mono wafer producer LONGi Green Energy Technology Co
PV Tech recently profiled LONGi's ingot/wafer expansion plans, while also noting that it was the fastest growing integrated PV manufacturer in the industry. LONGi is the key driver behind the mono push and has garnered significant supply deals.
After completing a 1.5GW wafer expansion in the fourth quarter of 2016, LONGi expected to add a further 1.7GW in the first quarter of 2017, followed by another 2.2GW in the second quarter of the year. In the second half of 2017, total wafer capacity is expected to be in the region of 12GW.
According to Finlay Colville, mono cell production is expected to account for 49% of all cell production in 2018, and is expected to be the dominant technology used in the industry by 2019.
However, the confidence from Aiko Solar also comes from a rapid improvement in PERC cell manufacturing equipment, both from a process perspective and also productivity and throughput increases that enable lower overall production costs.
This has been a significant success story for equipment suppliers, notably western suppliers that have re-established themselves as key providers in this major technology buy-cycle.
According to Aiko Solar, partnering with top-ranking equipment suppliers has been essential in order to be competitive, as it starts the heaviest capital expenditure cycle in the history of the company.
The company has already launched its next-generation mono PERC cell range, which also includes a bifacial PERC cell recently featured by PV Tech. The advantage of bifacial PERC cells is that Aiko Solar believes there is almost no extra investment required to add these to its product offering, while a bifacial design combined with a double-glass module and an intelligent mounting system can increase power output by as much as 28%.
"Definitely, the future will be mono, high-efficiency mono. Our products will be high-efficiency mono PERC and high-efficiency bifacial PERC. With these two products, we think mono will dominate the market," concluded Lau.