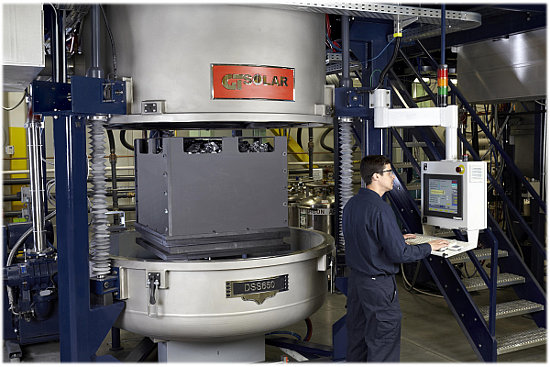 Crystal growth equipment supplier GT Advanced Technologies (GTAT) is re-entering the Directional Solidification System (DSS) furnace market for multicrystalline ingot production with the launch of a new product offering.
GTAT has recently exited Chapter 11 bankruptcy and had announced its exit from the DDS market back in December, 2012 as chronic overcapacity in the sector significantly reduced future potential sales, despite being the then market leader.
However, in recent years, GTAT had occasionally sold DSS furnaces and parts from inventory.
The company said that it would be launching its new 'DSS 20M,' at SNEC in Shanghai, later in May. China remains the largest market for multicrystalline ingot/wafer production and overcapacity seen in 2012 has only recently returned to tight supply.
Dave Keck, chief executive officer of GT Advanced Technologies said, "The DSS 20M allows producers to drastically improve operational efficiency and productivity by nearly doubling production output versus the current generation furnaces. With over 3700 units installed, GT has the largest installed base of multicrystalline furnaces in the market and our latest furnace, the DSS 20M, enables our customers to produce the highest efficiency wafers at the lowest cost in the industry."
According to GTAT, the DSS 20M is its sixth generation furnace and is capable of producing more than 20MW of high efficiency ingots per year. Further details were not provided.