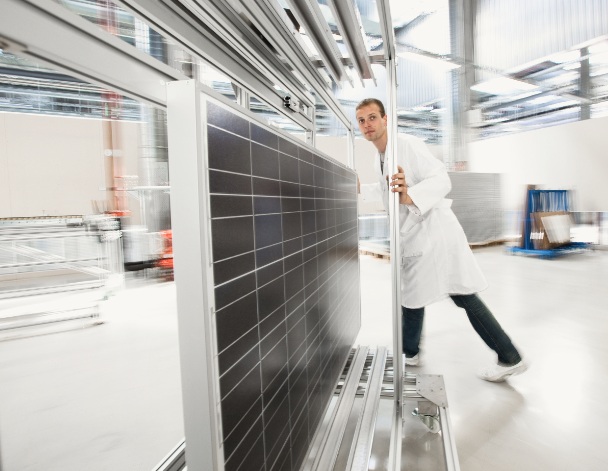 The FUD (fear, uncertainty and doubt) over the solar industry entering it second major overcapacity cycle is being replaced by a focus on how much overcapacity verses end market demand exists, especially in 2017 and therefore how low will PV module ASP's go?
Solar Power International (SPI) could not have happened at a better time to gauge ASP declines in the early phase of the current overcapacity cycle.
Several solar-centric US-based financial analysts have since provided their SPI investor note 'takeaway's' that are all dominated by ASP decline pointers.
ROTH Capital's analyst, Philip Shen highlighted the biggest fear that module ASP's were collapsing quickly towards manufacturing cash costs. Shen noted that over the three days of SPI and meetings with module manufacturers the ASP price points (delivery in 4Q 2016) went from the mid US$0.40c/W to a range of US$0.40-42c/W toward the end of SPI when there was the potential for some module supply deals to be in the sub US$0.40c/W range.
Worse, Shen noted: "We estimate current module pricing for Q4 delivery in China, India, and LATAM is [US$] ~36-38c/W. This all compares with blended global module ASPs in Q2 in the mid 50s/W. The steep drop in China demand in Q3 after the June 30 FIT cut combined with soft U.S. demand on projects being delayed into 2017 is impacting ASPs globally with all markets seeing an acceleration in declines."
Deutsche Bank analyst, Vishal Shah was overall less downbeat, although noted that there had been "precipitous price declines in the U.S. market."
Shah also noted that Chinese module manufacturers ASP's were fast approaching US$0.40c/W in the US, compared to over US$0.60c/W, just 6 months prior.
The Deutsche Bank analyst said in a research note: "Lowest price point we heard from the conference [SPI] was [US$] 41c from tier 1 supplier and in some instances we have also heard cash spot prices below 40c for immediate delivery in Q3/Q4 [2016] timeframe. With more cost reductions planned for early next year, industry participants expect module prices to approach 35c within the next 6-9 month timeframe."
However, according to Shah, the precipitous price declines in the U.S. market was also being driven by a significant reduction in manufacturing costs, as well as the lack of import duties impact as more Chinese/Taiwanese suppliers have ramped production outside the two countries to avoid anti-dumping duties, lowering ASP's. The lack of import duties were said to have already resulted in an additional 10-12c ASP saving.
"Chinese module margins may decline somewhat in 2016 but greater declines likely in 2017. Chinese companies have entered into contracts with US customers at slightly higher prices earlier this year and while some really high priced contracts maybe getting renegotiated, these cases are mostly one offs. As such, companies expect margins to decline in 2H, but still expect to achieve low teens run rate. However the outlook for 2017 margins remains somewhat concerning as industry participants expect margins to come under further pressure and decline to single digit % range," added Shah in his investor note.
Baird Equity Research analyst, Ben Kallo also attended SPI and noted: "Meetings confirmed the solar market is in a state of oversupply, which is pressuring ASPs and could impact future margins, depending on cost reductions."
Kallo also noted that module ASP's were reaching US$0.40 for large orders (5 MW) for delivery in Q1 2017 and that ASP pressure was also being driven by additional 'tariff free' capacity.
"Duration of oversupply and module price compression remains unclear. Several companies have indicated oversupply may last for ~2-3 quarters, although this is predicated on several factors (increasing demand, potential consolidation of tier 2 and 3 companies, etc.). We continue to believe global demand will increase in 2017 as cost declines open new markets, which should help to offset increasing global capacity. Additionally, we believe some manufacturers could adjust the rate/amount of their capacity increases given recent pricing declines, as new capacity will need to be run at high utilization rates to keep costs down," added Kallo.
Part of the challenge in reading the ASP declines is of course related to global end-market demand.
ROTH Capital believes that 2017 global demand forecast remained largely unchanged for major markets, compared with 2016 expectations, indicating a flat growth market.
Baird believes the ASP declines would help open new markets and therefore global demand would increase overall in 2017.
PV Tech recently reported that Deutsche Bank expects global PV installs in 2016 to reach around 72.8GW and fall slightly in 2017 to 71.8GW.
Deutsche Bank's view that module ASP's could continue to fall and approach US$0.35/W within the next 6-9 month timeframe could prove to be the most conservative.
Finlay Colville, head of Solar Intelligence at PV Tech's owner, Solar Media is hosting two 'free' webinars next week on the 'Solar PV Technology & Manufacturing Landscape in 2017' to cover critical aspects of the new overcapacity cycle.