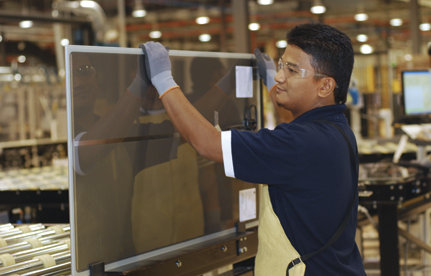 Struggling US-headquartered solar PV encapsulant producer STR Holdings foray into recapturing market share by producing in China has come to an end with the closure of its manufacturing operations in the country.
STR Holdings, majority owned by China-based PV project developer, Zhenfa Energy has experienced a catalogue of woes for many years, including losing its major customer First Solar and the majority of customers in Europe, due to bankruptcies, sector exits and acquisitions by Asia-based module manufacturers.
Only last year in October, a fire damaged part of its encapsulant production facility in Shajiabang, Jiangsu, China and has had significant trouble breaking into the Chinese market, despite claimed efforts by Zhenfa to have STR's encapsulant specified to module manufacturers its used to supply to its PV power plant projects.
Indeed, a module assembly subsidiary of Zhenfa, which it previously acquired before STR, had secured a major encapsulant supply deal for STR but as SEC filings show had never purchased encapsulant material from STR as part of the supply contract.
Adding to STR's woes after entering the China market was incurred bad debt expense that has amounted to US$2.6 million during 2016, which led the company to file lawsuits against three customers of STR China for non-payment during 2016.
Other Chinese module manufacturers that had certified its encapsulants were never supplied in volume quantities as their credit status put STR at risk, some due to previous poor payment history with the material producer.
STR has shifted some of tools from the closed China facility to a subcontractor in India.
Financials
STR recently reported second 2017 net sales of US$3.05 million, compared to US$6.69 million in the prior year period. The sales decline is primarily attributed to lower sales from China. First half year sales were US$6.77 million, compared to US$13.1 million in the prior year period.
Net loss for the first half of 2017 was US$3.33 million, compared to a net loss of US$7.96 million, due primarily to lower manufacturing and lower sales volume.
Revenue from encapsulant sales is well below levels needed for STR to return to profitability. However, STR expected to eventually sell its manufacturing plant in Malaysia, which it closed in 2015. Proceeds are expected to be in the region of US$5.8 million, although issues with the land owner, Johor Port have stalled the sale so far.
Although STR also has US$5.3 million of cash and US$0.1 million of bank acceptance notes located in China, the company noted that "evolving China currency control regulations may limit" its access to the funds for repatriation to the US.
STR exited the second quarter of 2017 with cash and cash equivalents of US$13.4 million, although that includes US$5.3 million in China, US$1.2 million in Malaysia and US$1.5 million in Spain.
Sales at STR peaked in 2010 at US259.2 million.