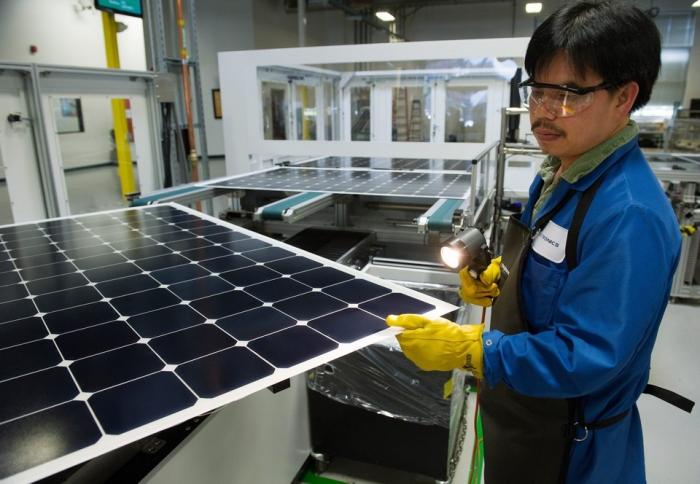 Updated: High-efficiency PV module producer and project developer SunPower has announced further restructuring plans as competitive issues bite that include the closure of its 700MW, IBC solar cell plant in the Philippines and a 25% reduction in its global workforce.
SunPower had already announced plans to close its PV module assembly operations (1GW capacity) in the Philippines with the total loss of 1,200 jobs. The company planned to shift production to its assembly plant in Mexico.
In a conference call to discuss the restructuring activities, SunPower management said that approximately 75% of the planned job losses would be related to the closure of Fab 2, while the remaining job losses attributed to the global corporate sector of the company.
"As we announced in our third quarter 2016 earnings release, given the current market dislocation, we have made the strategic decision to implement a broad restructuring program to position the company for sustained, long term profitability," said Tom Werner, SunPower president and CEO. "We believe that our restructuring initiatives will enable us to successfully navigate through the current market transition and maximize cash flow while successfully positioning the company for the next phase of industry growth."
SunPower said that it expected to incur total restructuring charges of US$225 million to US$275 million through the end of 2017, which included approximately 30% of total attributed in cash.
The company said it would record restructuring charges of at least US$150 million on a GAAP basis in the fourth quarter of 2016.
The company plans to achieve annual operating expenses of less than US$350 million in 2017 as well as substantially decrease 2016 inventory to improve working capital and strengthen its balance sheet.
As a result, SunPower expected to reduce its capital expenditures by more than 50% to approximately US$100 million in 2017. The majority of the capex spend would be attributed to its next generation cell and module technology as well as its complete PV solutions side of the business.
"This comprehensive restructuring program will enable us to successfully navigate the current challenging industry conditions while positioning us for success over the long term," said Chuck Boynton, SunPower chief financial officer.
2017 forecast
SunPower also provided for the first time its key business metrics expected in 2017.
GAAP revenue guidance for 2017 was expected to be in the range of US$1.8 billion to US$2.3 billion. This compares to 2016 full-year GAAP revenue guidance of US$2.43 billion to US$2.63 billion.
SunPower also guided total PV modules deployed in 2017 to be in the range of 1.3GW to 1.6GW, which compares to a lowered 1.32GW to 1.35GW guided for 2016.
Management also noted in a conference call that its 2017 module deployments would include around 400MW of its P Series modules, which uses outside sourced solar cells.
Manufacturing update
As the result of the closure of Fab 2, SunPower has IBC solar cell capacity of 775MW at Fab 3 in Malaysia (E Series modules) and 350MW of capacity at Fab 4 (X Series modules) in the Philippines, providing a total of 1,125MW of high-efficiency cell production.
However, with its P Series modules assembled in Mexico, overall in-house capacity equates to around 1,525MW, down from 2016 capacity of 1,650.
Management also noted that the next iteration of its 'Maxeon' cell fabricated at Fab 4 would enter pilot production in 2017, although volume ramp would be a 2018 to 2019 affair, depending on market dynamics at the time.
The company did not rule out utilising its proprietary cell processing equipment from Fab 2 at other fabs, depending on market conditions.