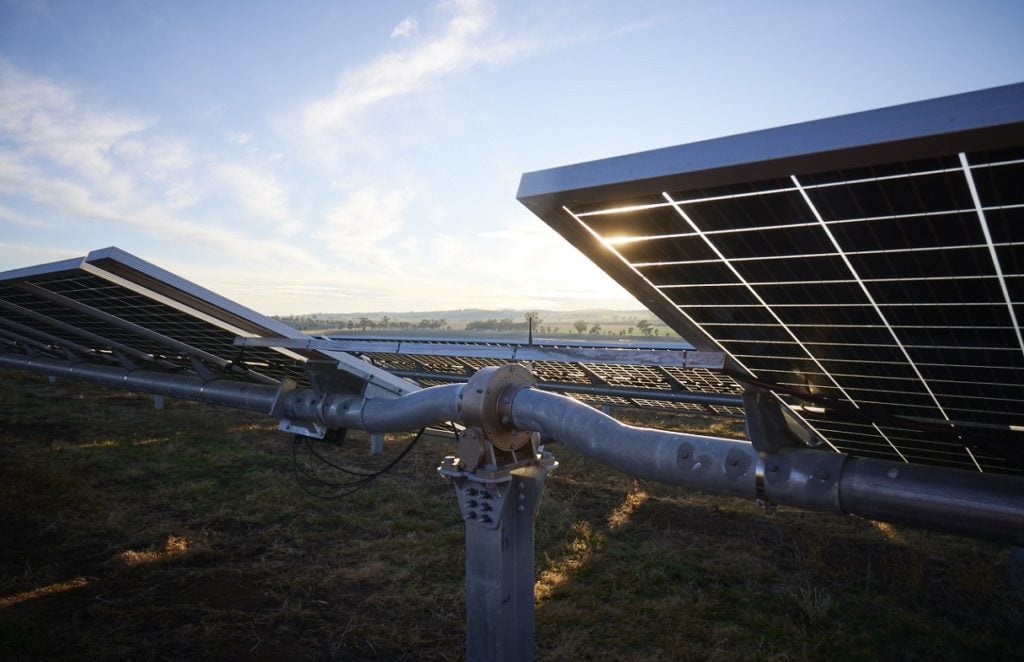 US-based solar tracker manufacturers have welcomed the inclusion of domestic manufacturing incentives for tracker components included in a draft version of the country's Build Back Better (BBB) bill, saying the proposed measures would drive job creation.
While the fate of the bill, which has been the cornerstone of US president Joe Biden's policy agenda, remains uncertain following the announcement on Sunday from key Democrat Senator Joe Manchin that he would not vote for it, tracker manufacturers have been encouraged by policy support featured in the package.
A version of the bill from the Senate Finance Committee, published earlier this month, would see the advanced manufacturing production credit component of the legislation – which also includes support for US manufacturers of modules, cells, wafers and solar-grade polysilicon – expanded to provide credits for producers of trackers and inverters.
In comments sent to PV Tech Premium last week, Nextracker CEO Dan Shugar said BBB will ensure that clean energy jobs continue to be created in the US.
"The renewable energy provisions in the Build Back Better Act are a green light to US solar companies like Nextracker and other manufacturers to move rapidly to increase investment in people, factories, and raw materials," Shugar said.
Proposals from the finance committee would see tax credits provided for torque tubes, longitudinal purlins and structural fasteners, with the full credit applied to components sold before 2029, before phasing out by 25% percentage points each year until it is unavailable as of 2032.
After closing deals earlier in the year to provide its NX Horizon trackers for a 1.5GW portfolio of US projects from asset manager Arevon Energy as well for 728MW of solar plants in California and Texas being developed Intersect Power, Nextracker revealed last month it has now surpassed 50GW of shipments globally.
Another tracker manufacturer that would be boosted by the finance committee's BBB proposals is Array Technologies, which may disproportionally benefit given its established US footprint and ability to source around 90% of its content domestically, according to a research note published last week by investment bank ROTH Capital partners.
The renewable energy policies in BBB would "foster innovation and create a level playing field to compete, and we believe this will greatly benefit the US economy and our planet", said Array Technologies in a statement sent on Friday.
"Encouraging the production of equipment that will allow our economy and society to decarbonise should be a national priority," the statement added.
The company said that maintaining its manufacturing operations in the US is core to its identity, even as it expands internationally. Array last month secured a US$652 million deal to acquire Spanish tracker manufacturer STI Norland, touting the company's strong position markets such as Brazil.
The proposed BBB tracker manufacturing support would represent a welcome boon for Array after the company saw its profitability decline during Q3, as the firm flagged high shipping costs and supply chain challenges.
Array said domestic manufacturing incentives as well as other proposed policies included in BBB – such as expanded investment tax credits for solar projects – would result in a "substantial increase in demand" for its projects and the PV sector in general.
"We look forward to the additional jobs that will be created in the US, both within our own company and within our supply base, as solar further establishes itself as an economic engine."
While the outlook for BBB, in the wake of Manchin's announcement last weekend, appears bleak, the White House has refused to concede defeat. Speaking at a press conference held yesterday, White House press secretary Jen Psaki insisted that while it was Biden's preference to pass the act before the new year, work was continuing on the legislation.