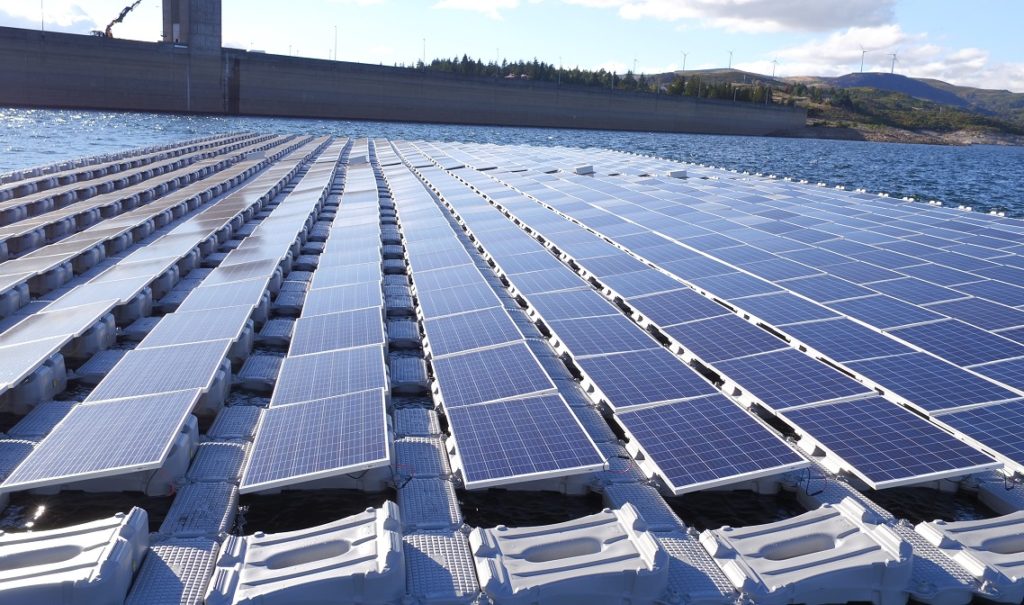 Portugal's latest solar auction made headlines earlier this month as record-low negative bids were posted, with the results illustrating the value developers place on securing a grid connection and the strong potential they see in hybridising renewables assets.
The auction closed with 183MW of floating solar capacity awarded, with winning bidders given contracts to use water surfaces at dams located across the country while receiving a grid connection point.
While Portugal's previous two solar auctions – in 2019 and 2020, which both closed with record-low prices – awarded more capacity, a novelty in the rules this year allowed bidders to hybridise their PV projects with other renewables assets and battery energy storage systems.
The awarded contracts provide winning bidders grid connection points and, therefore, the ability to add additional capacity and sell output on the merchant market or through power purchase agreements, for example.
This possibility of hybridising "is one of the key drivers of the negative prices", says Inês Gaspar, senior analyst at consultancy Aurora Energy Research, with the results also impacted by the difficulty in securing a grid connection in Portugal. The entity that assigns grid connection permits in the country has not been issuing them for more than a year, according to Gaspar.
The tender allowed bidders two ways of participating, with 103MW of capacity awarded via a contracts for difference (CfD) model and 80MW through compensation paid to Portugal's National Electric System.
Portuguese utility EDP secured 70MW of floating PV capacity in the auction, more than any other bidder, while posting the record-low bid of -€4.13/MWh (-US$4.51/MWh). The grid connection it secured will allow it to install up to 154MW of renewables capacity, including the CfD-backed floating solar, 14MW of ground-mount PV and 70MW of wind.
EDP said the hybridisation component and the scale of the project will ensure its economic viability and "open great business and generation opportunities" for the company.
Hybridisation is now considered the "logical growth path in the electricity generation industry since it increases project efficiency, allows the sharing of electric infrastructures, promotes cost stability and reduces" the environmental impact of renewables, EDP said in a statement sent to PV Tech Premium.
Winning bidders in the auction will receive 15-year contracts and a concession to water surfaces for 30 years, allowing them to continue producing electricity from the floating projects after the auction contracts end. According to Aurora Energy Research, since there is no clarity on the duration of the grid connection ownership, bidders are placing significant value on the assumption of indefinite access.
EDP's move to post a negative bid for the floating solar project will see it sacrifice part of its revenue for the first 15 years, which will be made up by the ground-mount solar and wind plants, the additional revenue secured by the floating PV asset in the following 15 years and the right to keep the grid connection.
Analysis from Aurora suggests that even with the negative bid, when the additional solar and wind assets are taken into account, EDP could secure an equivalent price of around €27/MWh for the first 15 years. "Which when you look at it that way, compare it to the previous auctions, doesn't actually seem that crazy," says Ana Barillas, head of Iberia at Aurora.
A hybridisation strategy is set to be taken by at least two of the other winning bidders, including Portuguese renewables operator Finerge, which was awarded three lots at different dams for a total of 38MW of floating solar capacity.
Finerge CEO Pedro Norton told news agency Lusa earlier this month that the company plans to hybridise the floating solar with nearby wind assets that it already operates.
The other two successful bidders in the auction were Spanish utility Endesa, securing 42MW, and French renewables developer Voltalia, which won at least 33MW of capacity, representing the company's first floating solar project.
Endesa's slot has been confirmed as hybrid, according to Aurora. And there is nothing stopping Voltalia from hybridising its floating PV asset, says Barillas. "The contract is for the capacity of this auction, but they effectively have access to the grid. And so if they want to add additional capacity to the grid then they can, and sell it however they want."
Barillas adds that Portugal's auction "is a clear example of how hybridisation can actually unlock significant value… It just seems to be the trend and the way the market is going".
EDP currently has more than 1.3GW of hybrid projects – comprising solar, wind or hydropower – under development in Portugal and Spain, countries that the company says "have taken the lead" in creating a favourable regulatory environment for the development of such hybrid installations.
Recent announcements by Portugal's government include a new ambition for the country to increase the share of renewables in electricity production to 80% by 2026, four years earlier than previously planned, while it will also waive environmental impact assessments for new solar projects with a capacity of under 50MW to accelerate deployment.
While Portugal looked to assign 263MW of solar in the latest auction, it is expected that the capacity not awarded will be carried over to the next tender.
Gaspar says environmental bodies in the country are currently evaluating how much more floating solar can be included in future auctions, but it is still unclear when they will take place.